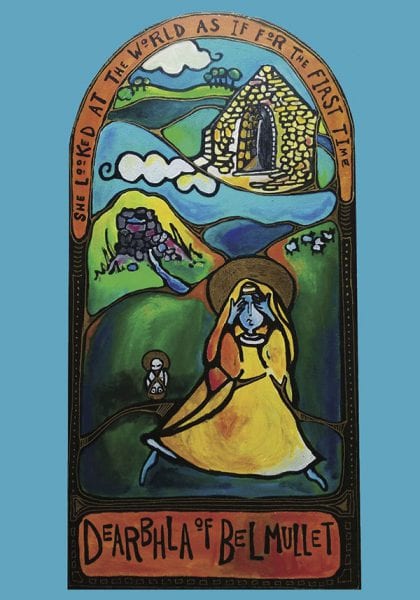 Dearest monks and artists,
We are in the process of sharing our four new Irish saints which Marcy Hall has painted, inspired by my new book forthcoming this fall – The Soul's Slow Ripening: Twelve Celtic Practices for Seekers of the Sacred (through Ave Maria Press.)  Each of the twelve chapters includes a story of an Irish saint. In addition to the release of new icons, we are also releasing an album of Celtic songs compiled from several friends of the Abbey.
This week I introduce to you St. Dearbhla:
Dearbhla is said to have lived in the sixth century, of noble lineage in County Meath. Like many women of her time, she was supposed to marry but didn't want to. So she fled to Belmullet in the northwest of County Mayo. Her lover followed her there much to her dismay. She asked him why he loved her, and he swooned over her beautiful eyes. The story tells us that she then plucked them out of her head and extended them out to him. He was, of course, horrified, and runs away.
Dearbhla is then said to have washed her eyes in the waters of the holy well and her eyes and sight were miraculously restored. Interestingly, she is not the only woman saint to have disfigured herself to get rid of a suitor, Brigid is said to have made herself look hideous to scare someone away and then was later healed.
Dearbhla then set up her monastery at that location where there is still a church ruin and a well dedicated to her. We sadly don't have much more information about her life story, but again, I love that that landscape still holds stones and water dedicated to her memory and the service she offered to her community.
With great and growing love,
Christine
Christine Valters Paintner, PhD, REACE
Dancing monk icon © Marcy Hall at Rabbit Room Arts (click link to order a print)