by Christine Valters Paintner, PhD, REACE, OblSB
& Lucy Wynkoop, OSB
Paulist Press 2008

Lectio Divina: Contemplative Awakening and Awareness offers a unique prayer resource that provides a thorough grounding in the different moments of the lectio experience: listening, reading, savoring, responding, and then contemplating God s Word. It will act as a guide for those who have a desire to pray more deeply into this ancient practice and invites readers into a spirituality that encompasses a way of being with God and the whole of life. Lectio Divina, grounded in Benedictine tradition, provides an accessible approach to praying with scripture as well as several concrete and creative ways of praying lectio with different texts such as poetry, icons, and movies. The book also explores ways of bringing lectio into scripture study and integrating lectio into busy lives. It concludes by offering the reader an exploration of the transformational value of lectio divina and a way of using lectio to pray with life experience.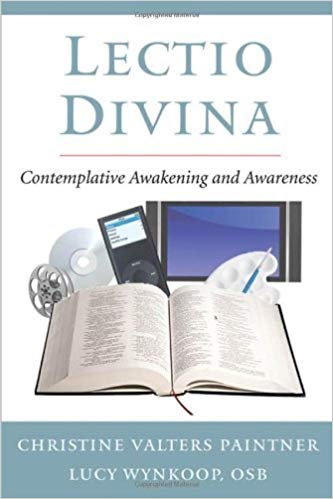 When you purchase books through the links to Bookshop.org or Amazon.com, Abbey of the Arts is provided with a very small percentage of your purchase price at no extra cost to you. We apply these funds toward scholarships for our online programs. Thank you for your support!

I highly recommend Lectio Divina: Contemplative Awakening & Awareness. While many books laud the value of integrating lectio into our lives and some may provide the briefest of explanations, this is the only source that I am aware of that provides both the tradition and development of lectio divina along with contemporary expressions of lectio in practice. This book has grown out of years of practice and in mentoring others to cultivate ways of lectio divina that deepen the contemplative stance toward life. Lectio has been the heart and gut of monastic practice for centuries; the Spirit invites all of God's people to partake of this ancient way with God." -Sr. Laura Swan, OSB, author of The Forgotten Desert Mothers: Sayings, Lives, and Stories of Early Christian Women
Lectio Divina: A Way of Being with God and Life is above all a practical book. It is rooted in the authors' own practice and the experience of those for whom they provide spiritual direction. It gives practical advice for readers who wish to deepen their life with God on the basis prayerful reading of the Bible or the other ways in which God's word reaches us. Those who listen with their hearts to these authors' words will be deepened in their spiritual practice." –Fr. Hugh Feiss, OSB, Monastery of the Ascension.
With the rising interest in the art of Lectio Divina Christine Valters Paintner and Lucy Wynkoop have created a work of great promise. In this superb resource the ancient wisdom and the poetry of the Lectio process shines forth. This is a praiseworthy offering." –Macrina Wiederkehr, OSB, author of Seven Sacred Pauses: Living Mindfully Through the Hours of the Day and  A Tree Full of Angels: Seeing the Holy in the Ordinary
Christine Valters Paintner and Lucy Wynkoop offer a way of practicing lectio divina that is inviting, accessible and practical. Their deep confidence in this way of prayer, and the clarity and wisdom with which they beckon the reader, spring from their own lived experience. With its singular combination of insights for daily life and prayer and suggestions for practice, this book will prove helpful to both the novice and to those who teach this way of prayer." –The Rev. Mary C. Earle, Associate Faculty of the Episcopal Seminary of the Southwest in Austin, author of Broken Body, Healing Spirit: Lectio Divina and Living with Illness
Wynkoop and Paintner's LECTIO DIVINA is a lovely book, with a gentle, lyrical style that reveals lectio's aim in the authors' tone as well as words. In their hands, lectio takes shape as a transforming power, combining the great aspiration to love and be loved by God with full acceptance of ourselves as we are. I especially enjoy the way Wynkoop and Paintner integrate the prayer of lectio with the senses, describing its wisdom as basking and luxuriating in God's presence, and offering specific suggestions for integrating art, poetry, images, music and the body into a lectio practice. LECTIO DIVINA is an act of consecration – the lifting up of our lives and souls to God." –Dr. Norvene Vest, OblSB, author of Preferring Christ: A Devotional Commentary on the Rule of St. Benedict
If a college student practicing a secular adaptation of lectio divina hears the "still, small voice" that was "lost to years of Ritalin use," then Sister Lucy Wynkoop and Dr. Christine Valters Paintner's Lectio Divina: A Way of Being with God and Life provides an immensely practical guidebook for discerning the voices of "God" and for being with the vicissitudes of contemporary life." –Dr. Sarah Williams, Professor of Feminist Studies, The Evergreen State College