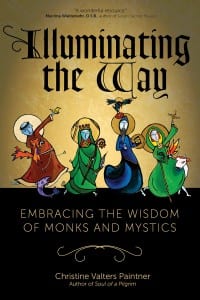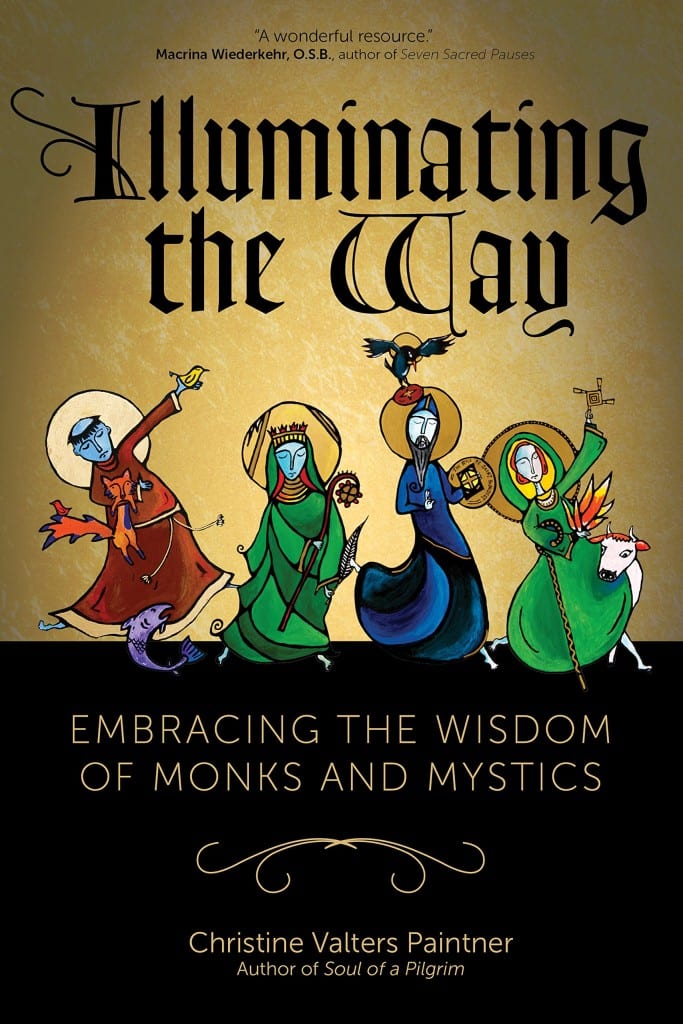 by Christine Valters Paintner, PhD
(Ave Maria Press, 2016)
To order through Amazon.com click here
To order through Ave Maria Press click here
To order through Barnes and Noble click here
Description
Popular author of eight books and abbess of the online retreat center Abbey of the Arts, Christine Valters Paintner explores how the lives and spirituality of twelve monks and mystics offer distinct patterns of thought that will lead you to a deeper understanding of your strengths and areas of growth and will guide you on the path to your true spiritual identity.
In Illuminating the Way, Christine Valters Paintner takes you on a journey through your inner life accompanied by twelve great monks and mystics from the Christian tradition. Each figure invites you to discover the energy and potential of a particular archetype—the inner sage in Benedict; the inner visionary in Hildegard of Bingen; and the inner orphan in Dorothy Day. From the prophet Miriam of the Hebrew scriptures to twentieth century monk Thomas Merton, Paintner offers an array of challenging and enlivening models to explore.
Paintner is beloved by readers for her creative practices, guided meditations, and beautiful prayers and poems, and she has included all of these elements in her new book to further explore the image associated with each mystic. Her insightful reflections on key selections of each mystic's writings will help you gain greater self-knowledge and experience a deeper encounter with God.
Each chapter also includes a full-color painting of each monk or mystic by Marcy Hall with commentary by Paintner and scripture passages and mediations by Paintner's husband, John.
Supplemental materials, including a CD with music, a DVD with movement prayers, and a book that includes images, poems, and music notations are available on Paintner's website AbbeyoftheArts.com.
Supplemental Materials
You can order the CD Singing with Monks and Mystics and DVD Dancing with Monks and Mystics to further inspire your journey with these inspiring figures.
You can download full page versions of Stacy Wills' mandala coloring pages: Fool and Sovereign Mandalas
Interview
Welcoming the Mystics to Be Our Teachers on Unity FM's Soul-Directed Life
Praise for the Book
"In this creative work Christine Valters Paintner offers us a pilgrimage through the lives of sages, healers, mystics, visionaries, and more—inviting us to feast on their wisdom and explore how their gift of life can illuminate the way for us. This is a wonderful resource and I joyfully recommend it." —Macrina Wiederkehr, O.S.B., Author of Seven Sacred Pauses
"Illuminating the Way combines meditation, poetry, art, and more to reveal the singing heart of our tradition's great wisdom keepers. Jesus has been called the 'Lord of the Dance' — this sumptuous book calls us to join the circle." —Carl McColman, Author of Befriending Silence
"Christine Valters Paintner is a vibrant green path—a path I love to walk. In Illuminating the Way she invites saints and mystics to join us. Rilke and Merton step out of their books, walk beside us, and do, indeed, illumine the path." —Janet Conner, author of Writing Down Your Soul, Soul Vows and The Soul Discovery Coloring Book
"Illuminating the Way generously offers myriad pathways to discover and explore the multiple selves that dwell within each of us. It's a book that will expand you, a real treasure that you will return to again and again." —Colette Lafia, author of Seeking Surrender
Read a review at Contemplative Light:
"Given her experience in guiding retreats and workshops, there's a welcome practicality to this book that casts familiar practices in a new light. Valters-Paintner's experience with practices like Lectio Divina practically drips through the pages. In the appendix, there is a fresh framing and an invitation to practice Lectio Divina that is very useful and goes beyond most instructions to the practice. . . To read this book is to spend a little time in the presence of a warm spiritual guide full of wisdom both in reframing the ongoing journey and for practical tools for everyday use! . . . engaging, enriching, and spiritually aligning. Some books have the effect of bringing us into attunement because they manifest and connect us with a deep wisdom through the act of reading it. This is one of these books."