by Christine Valters Paintner, PhD, REACE, OblSB
& Betsey Beckmann, MM
Morehouse Publishing, SDI Imprint Series, 2010

The new resource is designed to help spiritual directors and others use expressive arts in the context of spiritual direction. It is the latest book in the unique SDI series, designed for professional spiritual directors, but also useful for clergy, therapists, and Christian formation specialists.
The Spiritual Directors International Series – This book is part of a special series produced by Morehouse Publishing in cooperation with Spiritual Directors International (SDI), a global network of some 6,000 spiritual directors and members.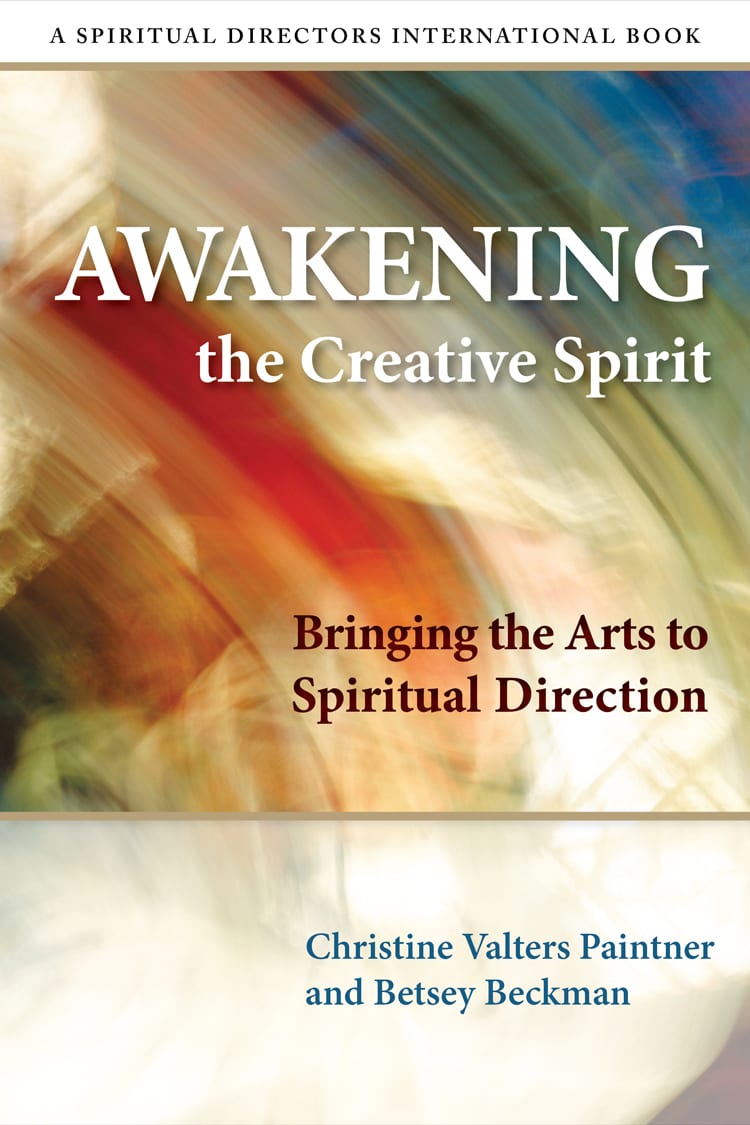 When you purchase books through the links to Bookshop.org or Amazon.com, Abbey of the Arts is provided with a very small percentage of your purchase price at no extra cost to you. We apply these funds toward scholarships for our online programs. Thank you for your support!

I put this at the top of the list for required reading for spiritual directors and spiritual formation classes. The clear, foundational writing introduces 'art in service to the soul.'  Brimming with multiple art forms, we get to hear the voices of directors and directees who are profoundly affected by the arts. This book is the next best thing to learning directly from such wise, inspiring teachers." -Cynthia Winton-Henry, cofounder of InterPlay, author of Dance--The Sacred Art: The Joy of Movement as Spiritual Practice
With their groundbreaking book, Christine Valters Paintner and Betsey Beckman offer a profound gift to the spiritual direction community and those whom we serve. They remind us that creativity is God's first language. It is our mother tongue, and one that we have too often ignored in journeying with others and in our own seeking after God. Word, image, music, dance: this book provides a rich vocabulary for entering more deeply into conversation and communion with the One who gives us the arts as path to knowing God." -Jan Richardson, author of In Wisdom's Path: Discovering the Sacred in Every Season
Christine Valters Paintner and Betsey Beckman have put their golden weight of gifts and skills together to form a masterpiece in using the arts in spiritual direction. Each topic addressed, from the power of the arts to mediate the sacred to every chapter which include "The Dance as Embodiment", "Visual Arts Expression", and so much more, holds golden nuggets of wisdom. But beyond the wisdom is their own (and others) practical, hands on experience that exhibits a powerful statement of the transformative strength of creative exploration. This is a book we need as spiritual directors and others who "tend the spirit", that opens doors to the exploration of the sacred.

For those who are learning to advance their skill in service of others, their step by step accounts for working with creative exercises is simple, grounded and profound. This book is in service of helping the director be of greater assistance to the spiritual director as they seek to deepen their spiritual direction skills and also in service of the directee as the arts encourage their healing and wholeness. Having taught classes about the use of art in spiritual direction, I'm delighted to have a text that combines not only the theoretical reasons for using the arts in direction and the exploration of the various art modalities but also the valuable Part III, "Working in Different Life Contexts", that envisions the life contexts and themes that arise in care of souls. It is an inspiring and regenerating piece of work that teaches the intrinsic significance of the arts and the value of engaging body, mind and spirit in creative pursuit of awakening the Holy that resides within." -Rebecca Bradburn Langer, D. Min., Adjunct Faculty, San Francisco Theological Seminary Program in Christian Spirituality, Spiritual Director, Pastor and teacher of supervisors in "Together In The Mystery" with Dr. Maria Tattu Bowen, co-editor of Supervision of Spiritual Directors: Engaging in Holy Mystery
Awakening the Creative Spirit beautifully and evocatively explores the relationship between spiritual direction and the arts. Readers will delight in the integration of personal story, thoughtful reflection, and practical guidelines that illuminate this relationship. Drawn into this engaging work, we encounter a book that bears witness to the transformative power of the arts to convey a sense of ultimate mystery. Replete with exercises, examples, stories, and resources, Awakening the Creative Spirit offers the most comprehensive guide to date on how to develop the "spark of divine creativity" embedded in us all. This is an invaluable resource for spiritual directors and for anyone who desires to become more aware of ultimate mystery in and through the arts. Those of us engaged in teaching the art of spiritual direction will find in it a beautiful introduction to the arts as the 'language of the soul.'" -Mary Rose Bumpus, RSM, Ph.D., Assistant Professor of Spirituality, School of Theology and Ministry, Seattle University, co-editor of Supervision of Spiritual Directors: Engaging in Holy Mystery
Christine Valters Paintner and Betsey Beckman generously invite the reader into the winding paths of creative expression. With expertise and reverence, they showcase the gifts of storytelling, imagination, dance, visual art, music, movement, poetry and presence. Through a gentle weaving of their insightful work, with reflections from workshop participants, and the community of spiritual directors, the authors prepare a dazzling palette for discovery and deepening.

Through Awakening the Creative Spirit, spiritual directors, retreat and group leaders will find courage to dip into the richness of these modalities for their own journey, while developing confidence and discernment in utilizing these tools in their creative ministries." -Marianne Hieb, RSM, ATR, MFA, D.Min., Director, Lourdes Wellness Spirituality Program, author of Inner Journeying Through Art-journaling
Having spent 40 years teaching and advocating a wider use of the arts and media in ministry and in spirituality, we are pleased to affirm and support the work of Paintner and Beckman." -from review at Spirituality and Practice