We are thrilled and delighted to be releasing a brand new compilation of songs, curated from some wonderful musicians we know and love. These are songs for Celtic seekers as they are inspired by the tradition of pilgrimage in Ireland and accompany Christine's newest book which will be released in September 2018 from Ave Maria Press – The Soul's Slow Ripening: 12 Celtic Practices for Seekers of the Sacred. For six weeks we will be featuring the musicians from this album who so generously agreed to share their beautiful music with our community for this project.
Next up is Richard Bruxvoort Colligan who wrote several songs for the Abbey. Read his whole reflection below and to hear a clip of the songs go to the album page at CDBaby here>>
There's nothing like the right song at the perfect time.

A few months ago, a circle of Abbey of the Arts pilgrims arrived on a special island on Lough Corrib where St Patrick is said to have built a church. Amid the rich landscape and silence, those monks in the world quietly sang,

Christ within, before and behind
Christ beneath, above, beside
Christ every hour, every day, every night,

the pulsing of St. Patrick's Lorica prayer resonating in their footsteps and heartbeats.

This song, "Christ Within," will soon be published by the Abbey of the Arts along with other chants that have become meaningful for the Abbey community in the last few years.

As a songwriter, there's no greater joy knowing that a song is useful. Except maybe the juicy, delicious process of making it!

I'm sometimes asked how it works. How does an idea turn into music that we can sing? Well, listen— I'm the expert, so let me tell you.

I got no idea.

Like any artsy thing— painting, dancing, poetry, parenting— it begins with a vital unknown that somehow breaks open to glorious discovery. Most of the time the process seems as elusive to description as it is breathtaking to engage.

In my specific line of work, it's music— the craft of language, time, rhyme (see what I did there?) and breath. But the heart of it, under all those particulars, is inventing a melody to carry words for a group of people to sing together.

For me, few activities are more intense and more gratifying than writing songs. The process searches my vulnerabilities and pokes. It excavates my imagination. It lowers me deeply into my best self. If that sounds like what a spiritual practice does, I agree. If I don't make time for songwriting, I dry up like a daisy in the desert.

The icing on the cake is that the product of songwriting is often useful to others.

When Christine has commissioned me to make music for the Abbey, it's been for a particular moment.

For example, our Abbess introduced me to St. Kevin of Glendalough and asked for a song. I didn't know anything about him except that his was one of my favorite Marcy Hall icons! Turns out, he was an Irish saint dedicated to a solitary life deeply embedded in nature. With a little research, I was captivated by the story of Kevin holding out his hand to receive a blackbird. The bird proceeds to build a nest, lay eggs and tend them as they hatch into fledgelings.

I decided that a song imagining Kevin's physical posture might be interesting. What does it look like to be open-handed in the world? What might fall into an outstretched palm? Are we willing to look foolish for awhile before our goal of nurturing is understood?

The song, "Open Hand" imagines us with Kevin's tenderness and patience, hand open. Singing together, we share his passion to be part of the rhythm of the interconnected world. Better yet, singing together, we hear the sound of lineage, legacy.

What I love best is making songs for community singing which, I would argue, is an art form distinctive from performance music.

The "Peregrine" song broke through to honor pilgrimage— the moments we are willing to put ourselves in the Way of deep change for the sake of sacred expansion.

"In My Heart is the Road," a short meditation on Psalm 84, has found its place among those who are compelled to pursue discovery at any holy destination.

In the Abbey of the world, how wonderful to know one's purpose. Thanks to all of you who have listened, honoring sound at sacred moments. Thanks to you who have joined your voice with others in rooms and on hillsides, journeying both inwardly and out among water and trees. Thanks to you who hum prayers on behalf of others.

There's nothing like the right song at the perfect time.
---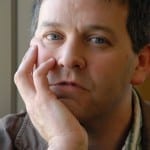 Richard Bruxvoort Colligan is a freelance psalmist who has contributed several songs to Abbey of the Arts. His central work is making imaginative and adventurous community songs for the ever-evolving church. www.PsalmImmersion.com. www.Worldmaking.net
His newest song, released November 1, 2017 is poem by Hafiz for All Saints. Watch the video and hear it for free at https://www.youtube.com/watch?v=yrS9Fc2dNyU