Dearest monks, artists, and pilgrims,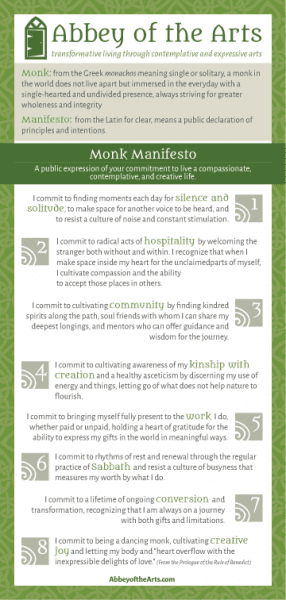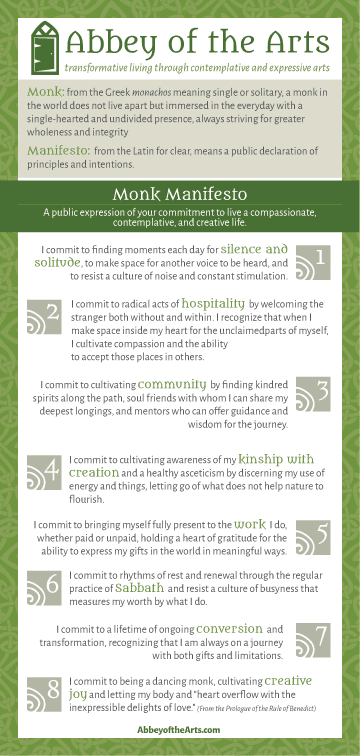 This love note is more of an update on what is happening around the Abbey as we are celebrating many good things!
First, we have a brand new website up, thanks to the stellar work of Lacy Clark Ellman who is a Wisdom Council member and spiritual director, along with star graphic designer. Stop by our new site, and take a look to see what you think. The feedback has already been great about how fresh, spacious, and easy to navigate it is. If you find any broken links or odd formatting on pages we would be most grateful if you could let us know!
We have some new graphics to go with the website as well. First is a beautiful infographic version of the Monk Manifesto and also some great new buttons you can post to your website or blog: Monk in the World and I am a dancing monk. You can find them here for download.
We are absolutely thrilled to report that six out of seven pilgrimage dates for 2016 are now officially full, including all of the Ireland dates. We do have a few spaces left for Vienna November 12–20, 2016, a magical time to be there as the Christmas markets start to appear. We also keep waiting lists for all dates and do get cancellations, so be in touch if there are some dates you want to join but are currently full.
I shared last week that my next (and ninth!) book is due out in the spring of 2016. You can pre-order Illuminating the Way: Embracing the Wisdom of Monks and Mystics here, and you can read a short excerpt from last week's reflection here.
Next week I will be back with more reflections on the contemplative and creative life. For now I am savoring all of the gifts this work brings, the most significant of which is a connection with you. You help make up our thriving global community. You bring me hope and joy to know that others are committed to a path of slowness and beauty.
In the meantime, here are some articles by Christine you may have missed:
Hard to believe but in 2016 Abbey of the Arts will be celebrating 10 years of online presence. We have some lovely offerings in store!
With great and growing love,
Christine
Christine Valters Paintner, PhD, REACE
www.AbbeyoftheArts.com
Monk Manifesto Infographic © Abbey of the Arts