I am delighted to share another beautiful submission for the Monk in the World guest post series from the community. Read on for Megan Karlen's reflection on finding beauty in the most ordinary of places:
Perching Hawk

It's been a number of years since I signed up for Abbey of the Arts. I receive the newsletters, I read the love notes, I have worked through a few of the online courses and yet I've been waiting: waiting to find the right time to delve into practicing the monastic life.

The call for guest bloggers got me thinking about how so much time has passed and I still haven't accomplished the task I set out for myself when I joined the Abbey: to live more contemplatively, to take time to nurture my inner monk.

What came from the journaling I did on this specific theme was surprising. I realized that I am on the monastic journey, and that I have been for almost a year now.

For 20 years, I've been an oil painter. I've had day jobs the whole time but I have also sold a number of my works. I paint sea and landscapes and I am grateful that people love them.

Flying Fishes

For many years, I loved painting them but I've recently shifted. My journey now is less about painting the beauty of the world and more about finding it in the smallest and most unusual places.

I daily stand humbled in front of the tiny, magical moments that surround us. I post images of things I find on the street. I post what's called Pareidolia; that is the phenomena of finding recognizable images in random shapes and patterns. I will look at a sidewalk crack, bits of trash, a jumble of leaves, and within them I will find landscapes, full moons, figures, animals, stories. These are moments that explode in beauty and, to me, constitute little miracles.

Walking Man Clutching

They usually exist for the moment you see them (because they are so randomly formed and the materials are completely subject to the whims of the weather and people around). These moments are always right in front of us but hardly ever noticed because we are all too focused on our own tasks to take the time to notice what's right in front of us.

These little images are gifts, miraculous because they exist and precious because they disappear so quickly.

I didn't realize it until this writing, that I am following a contemplative, and in some ways a very spiritual, path. I have learned to slow down and honor our world in a different way. And I have to say, every time I walk outside I can not believe the miracles that are just waiting to be experienced.
---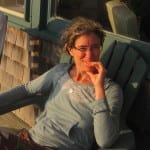 Megan Karlen is an artist / painter living in Brooklyn, NY. She is an oil painter, who also works in ceramics, and is currently learning to weave. ThePareidoliaProject is her daily meditation on finding beauty in the common things all around us.