I am delighted to share another beautiful submission for the Monk in the World guest post series from the community. Read on for Marcia Chadly's wisdom on the gifts of contemplative drawing for becoming a monk in the world:
And it was Good

Contemplative drawing is one of my favorite practices as a Monk in the World.  The story of contemplative drawing in my life is a creation story.  Spending time with this practice recreated my life.   Each drawing time is also a creation story.  The blank page becomes filled with color and form that brings meaning and life.

About 10 years ago I was in the process of reconnecting to myself and rediscovering my inner voice.  After a major life transition, I was refashioning my life.  There had been a time in the darkness of unknowing and now light was starting to appear.

I noticed a weekend art retreat at a Benedictine abbey and signed up without a clue that the weekend would be a turning point for me.  Along with meeting a nun for the first time :-), I found a process that would bring forth life for me.

The retreat was an introduction to contemplative drawing with oil pastels.  Each drawing session began with a brief discussion and then a meditation to transition out of linear thinking into art making contemplation.  There was incense to let our noses know it was time to make art, music to let our ears know it was time to make art, the feel of the paper to let our bodies know it was time to make art, and the sight of the colors to let our eyes know it was time to make art.  What a wonderful release into the blank, empty page – with reassurance from the instructor that we already knew what to draw without plan or thought or worry.

The empty page is an opening for creation.  Planning or thinking limits what will appear. Because there is no way to be detailed and picky with the oil pastels, there is a freedom.  This is playtime; smear the colors around and get your fingers dirty play.  Drawing is all about the experience of watching the colors transform on the paper.  A time to see that colors change depending on what other colors are around.  This is an experience of layering color on top of color to bring results that are influenced by all the layers.   The final picture is enjoyed as much for the process of expression that created it as the final image.

The time spent in contemplation, the process of the drawing, and the drawing created are all paths to my inner voice.  Exactly what I was intentionally seeking!  Little by little I connected to my inner wisdom and to myself.

That first retreat led to others and to contemplative drawing on my own.  At first my oil pastel playtime was a much-needed break and time to clear my mind from daily living.  Soon I began to see parallels between the two.  The experiences of my life are layered on top of each other, being influenced by the layers underneath.  I started noticing when the trap of valuing the end result rather than the journey caught me.  I understood that the more I could "play" with life, letting go of expectations and trying things with the knowledge that mistakes were wonderful and led to new things, the more I was free to live and enjoy life.   Beyond the self-connection I was seeking, this practice opened me up to a new way of being in the world.  I was being recreated as a Monk in the World.   And I saw that it was good.
---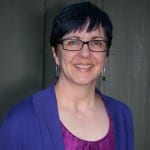 Marcia Chadly is a lover of color, creativity, and community; she appreciates the sacred space found in all of them.  Marcia values self-knowledge, growth, and renewal as key to living the life calling you and as a stepping stone to being in community with and in service to others.  She lives that value as Director of the Creative Life Center in the Denver Metro area of Colorado.  The Creative Life Center offers a variety of classes and events to support you from where you are to where you want to grow.  Visit www.CreativeLifeCenter.org to learn more.
Click here to read all the guest posts in the Monk in the World series>>