I am delighted to share another beautiful submission for the Monk in the World guest post series from the community.  Read on for Valerie's wisdom about signposts and ancient practices:
This is what the Lord says:

"Stand at the crossroads and look;
ask for the ancient paths,
ask where the good way is, and walk in it,
and you will find rest for your souls.

Jeremiah 6:16

I am a signpost. I am called to stand at the crossroads and offer direction and guidance to people. I share what I know of the ancient path to walk on, a good path, a path that leads to rest in their souls that Jeremiah records.

This is not a flashy or "sexy" way to live in the world. While signposts can be in key places of need, they are often rather dull and uninteresting things themselves. People who look at them are also looking past them, seeking to find the road, the directional information they are seeking. The signpost itself is merely functional, pointing to another reality; it is not the reality itself. While they can be iconic, most signposts are not great art, though they often are used to illustrate articles on guidance in life and the like. They can be metaphors for larger realities in the world but for the most part, signposts are there to focus our attention on something else and not on the signpost itself.

I am a signpost. My passion and gifting is teaching the spiritual disciplines to people who have known about God, often for decades, but have had difficulty in knowing God and, therefore, in knowing their true selves. The spiritual disciplines are "hand-holds" on the ladder of life. They can help carry us beyond ourselves, helping us keep our footing in whatever present reality we find ourselves in. They help us navigate rough waters as stars helped ancient mariners find their true course.

Yet, these spiritual disciplines, or holy habits as they are sometimes called, are often hidden or unknown altogether to people of faith. For lots of reasons, mostly due to fear of "works righteousness," the spiritual disciplines have been neglected since the 1800s  in Protestant circles. Thanks to people like Richard Foster and Dallas Willard, they are being rediscovered. Like a hidden Egyptian tomb, soul archeologists are discovering their treasures and sharing them with others. They are some of the great wonders of the spiritual world: prayer, meditation, fasting, study, simplicity, solitude, submission (a wonderful word that has been horribly misunderstood in modern times), service, confession, worship, guidance, and celebration (to quote Richard Foster's list in his ground-breaking book, "Celebration of Disciplines.")

I live as a monk in the world as a signpost to these great treasures. I have not unearthed these treasures myself but, like a museum docent, I show them to people, inviting them to embrace them for themselves. I do this through writing, speaking and through teaching graduate students.

Yet, as a signpost, I myself am also in need of being reminded about these practices. I often say, in a semi-joking fashion, that I teach the spiritual disciplines because I, more than anyone in the room, need to be reminded of their power and goodness. I continue to write and speak about them because I am also reminding myself that they are the paving stones on the ancient path and good way that God, through Jeremiah, invites us to.

When I use this Bible verse from Jeremiah to introduce my class to the disciplines, I leave out the last line: "But you said, 'We will not walk in it.'" Signposts can be ignored. Stop signs are run, road closure signs are missed, directional signs are ignored. Like you, I see this happen frequently and am guilty of these transgressions myself at times. But just because a signpost is ignored, the value of its message is not negated. The good road is there, whether I choose to walk on it or not.

We need new roads and we need ancient paths. "And Jesus said to them, 'Therefore every scribe who has become a disciple of the kingdom of heaven is like a head of a household, who brings out of his treasure things new and old.' (Matt 13:52). Each passageway needs signposts appropriate to its type. Interstate highway signs need to be big, flashy, and multiplied over a number of miles before the exit. Hiking trail signs can be smaller, more rustic and limited in number.

As a monk in the world, I am called to be a signpost to the ancient path that leads towards God. I am small and non-descript but no less valuable because of it. Stand! Look! Ask! Walk! There will be signs along the way.
---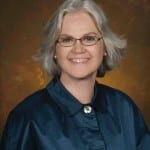 Valerie Hess, www.valeriehess.com, is a musician, instructor in Spring Arbor University's Master of Arts in Spiritual Formation and Leadership (MSFL) program, and an author with three books in print.
She is also the Coordinator of Music Ministries for Trinity Lutheran Church in Boulder, Colorado, where she lives with her husband.
Click here to read all the guest posts in the Monk in the World series>>