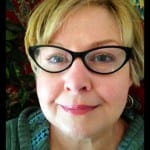 I am delighted to introduce our next member of the Wisdom Council to you: Stacy Wills.  I first met Stacy through the Way of the Monk, Path of the Artist online class.  She continued on with the community for several classes, and I had the pleasure of meeting her (and her delightful husband) in person when I went to Mississippi to lead a workshop for spiritual directors in the arts.  Stacy now brings her monk, artist, and spiritual director gifts in service to the Abbey through co-facilitating the Way of the Monk, Path of the Artist classes (along with Cheryl Macpherson, a another Wisdom Council member).  Read on for Stacy's reflections:
For as long as I can remember, my father called me "Monk." No one else ever called me that…you know, in the way a nickname will sometimes catch on over time…and while I'm pretty sure it was short for "Monkey" and might have had something to do with the size and shape of my ears, it was meant as a term of endearment, and I took it as such. But I also have to wonder if my father might have been unwittingly prophetic. For although I certainly accepted the moniker as a child, and even internalized it…I now seek, as an adult, to embrace and embody it in the truest and best sense, as one who commits to living life whole-heartedly.

When Christine invited me to write a guest post about what being a monk in the world and an artist in every day life means to me, I said, "Yes, I would love to…BUT…I'm much better with images than words." So I pondered (a very "monk-ish" thing to do, btw) how I might best express what my life as a monk and artist looks like and concluded that for me…it looks a lot like wandering and wondering…and following breadcrumbs through the proverbial forest. It's as simple as that, really…I'm a follower of breadcrumbs…and I end up, quite serendipitously it would seem, in some of the most interesting places that way. It has also been my very good fortune to have met some of the most remarkable people, too. I also tend to fill my pockets (metaphorically speaking) along the way with all manner of things that eventually find their place in my life, or in the lives of others.

As a monk and artist, it seems I do a lot of listening…to everything…and I do mean EVERYTHING…because I'm convinced that everything…and everyone…has a voice…has something to say…and wants to be heard.

Being a monk and artist means that I will seek to offer hospitality…to all the "whosoevers" that cross my path, and to hold sacred space for them as they make their own spiritual journeys. It also means extending that same hospitality to myself…especially in the areas of my life that have been "left in storage" as one friend recently put it.

As a monk, I desire to become increasingly aware of the present moment…to see it and accept it as the precious and beautiful gift it is.

In recent years, I have become more and more comfortable with silence and find that I actually crave it, whereas once upon a time, I would have avoided it at all costs. I also find it important to balance time in solitude with time in community.

If I were living in a real monastery, I'm sure I'd be the monk sitting behind the reference desk in the library. I'm a resource person, you see…a connector of dots…a crackerjack web-surfer,  expert "googler" and I LOVE to help people find what it is they're looking for if I possibly can.

I'm not entirely sure this falls under the monk/artist label, but I also have an unusual appreciation for the absurdities of life, a wry sense of humor and I am known for being given to fits of uncontrollable laughter.

As an artist, I delight in exploring and experimenting with new techniques, mediums and forms of creative expression. I find great joy in introducing others to what I'm learning and seeing creative sparks fanned into flame.

I particularly love sharing the way of the mandala, especially with children, and seeing their eyes gleam with pride as they show me their creations.

For decades I had been cut off from my creative self, until, thankfully, one day the dam burst, and creativity came flooding back in to my life. Art-making has truly become a healing and spiritual path for me, and I currently maintain two blogs to chronicle that journey. (Mandalas and Altered Art)

As a monk and an artist, I am in the habit of finding Beauty in the world, and I'd be delighted to have you join me!
Click here to find out more about Stacy's work>>