with Christine & John Valters Paintner, and Betsey Beckman, MM
A self-study retreat (start any time, move at your own pace, lifetime access).

This 12-week self-study retreat is a companion to Christine's book The Soul's Slow Ripening: 12 Celtic Practices for Seeking the Sacred. Journey together inviting you to explore the gifts of Celtic Christian spirituality, practices unique to this ancient tradition, inspiring stories of Irish saints, scripture reflections, plus creative invitations into writing and photography.
What does God desire for your life?
Christine Valters Paintner uses reflections, stories, guided activities, prayer experiences, and a variety of creative arts to help you patiently and attentively listen to God's invitation.
Everyone wants to understand God's call in their lives. Christine shares one of the most ancient paths to understanding from her study of monasticism and immersion into Celtic spirituality while living in Ireland. The Celtic way, which Paintner distills into twelve practices, offers discernment that focuses on the intuition and embodiment rather than the intellectual focus present in other forms of discernment. It allows for what Christine calls the "soul's slow ripening," coming into the fullness of our own sweetness before we pluck the fruit.
Each chapter begins with a story of a particular Irish saint—some well-known like Patrick or Brigid, others less so, such as Ita and Ciaran—and then introduces a helpful practice for discernment that the saint's life illustrates. Paintner explores the call of dreams, the importance of thresholds, the practice of peregrination (wandering for the love of God), walking the rounds, learning by heart, soul friends, blessing each moment, and the wisdom of the landscape and the seasons. Participants are invited to explore these concepts through photography and writing. She invites us to contemplative walks with specific themes along with poetic writing prompts for expression.
As you explore an alternate way of discerning a spiritual path—one which honors the moment-by-moment invitations and the soul's seasonal rhythms—you will discover that this book and retreat experience will help you become more aligned with creativity and wholeness.
Also included are 12 vibrant songs commissioned for each saint and practice along with gesture prayers taught by liturgical dancer and movement therapist Betsey Beckman, MM to bring the whole body into our prayer in an open and accessible way.

Week 1: The Practice of Thresholds
Week 2: The Practice of Dreaming
Week 3: The Practice of Peregrinatio and Seeking Your Place of Resurrection
Week 4: The Practice of Blessing Each Moment
Week 5: The Practice of Soul Friendship
Week 6: The Practice of Encircling
Week 7: The Practice of Walking the Rounds
Week 8: The Practice of Learning By Heart
Week 9: The Practice of Solitude and Silence
Week 10: The Practice of Seasonal Cycles
Week 11: The Practice of Landscape as Theophany
Week 12: The Practice of Three Essential Things
Six days each week you receive an email with a link to the day's content. The 7th day is a time for rest and integration. The added materials (in addition to the book) are in audio and video format which you can listen to at any time. You have lifetime access to the materials in the course.
Monday: Introduction to theme and guided meditation (with audio)
Tuesday: Scripture reflection from John Valters Paintner (with guided lectio divina audio)
Wednesday: Photography Exploration (with audio)
Thursday: Writing Exploration (with audio)
Friday: Song and Movement Prayer with Betsey Beckman (with audio and video)
Saturday: Closing Blessing (with audio)
Sunday: Sabbath rest

Your registration constitutes an agreement with our online program Terms and Conditions below.
No refunds are provided for online program registrations. Please consider your purchase carefully and review the many free materials we have on our website to make sure the program will be a good fit or get in touch with any questions.
You will have access to all the program materials for the lifetime of this website.
The registration fee is per person; we ask that you honor our work by not sharing the program materials with others who are not enrolled.
All materials presented in our online programs are copyright. Please contact us for permission to quote in settings beyond the program.
Some self-study retreats include video or audio recordings of session that were recorded in a live community offering of the retreat and may make reference to forums or other modes of sharing. Please disregard these as self-study retreats do not have these available.
All fees include VAT where applicable.
If you need a payment plan or a more of a scholarship to make this program accessible, please get in touch with us. Small group discounts are also available.

Your Guides for the Journey
Christine Valters Paintner, PhD, REACE is a writer, spiritual director, teacher, and retreat & pilgrimage guide. She is the author of eleven books on contemplative practice and creative expression including her forthcoming book this fall 2018, The Soul's Slow Ripening: 12 Celtic Practices for Seekers of the Sacred. Christine lives in Galway, Ireland with her husband John where together they steward Abbey of the Arts, a global monastery, and lead pilgrimages to the wild edges.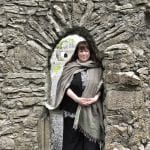 John Valters Paintner, MTS is the online prior for Abbey of the Arts, where he assists his wife Christine in ministering to global community both online and through in-person programs. John was a youth minister and pastoral associate for four years before becoming a high school religion teacher for twelve years. He has a Masters of Theological Studies from the Jesuit School of Theology at Berkeley. His love for the Bible, particularly the Hebrew Scriptures, emerged when he taught the "Old Testament" at an all-boys high school. John is also a lover of the art of story-telling and has written dozens of short stories, one-act plays, and short films in a variety of genres.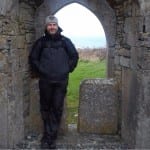 Betsey Beckman, MM, is nationally acclaimed as a spirited dancer, storyteller, teacher of SpiritPlay and dancing Spiritual Director. With her extensive repertory of sacred storydances, she is regularly featured as artist/presenter at national conventions as well as local churches. She earned her Masters in Ministry degree from Seattle University, her certificate in Movement Therapy from the Institute for Transformational Movement, and is a certified InterPlay leader. Betsey's publications include books, recordings, and The Dancing Word series of DVDs on embodied prayer. You can find out more about Betsey at her website.