I am delighted to share another beautiful submission to the Monk in the World guest post series from the community. Read on for Marlene Kropf's reflection on practices of solitude, shared prayer, and contemplative walking.
Monasteries are favored retreat spaces for my husband and me.  When we travel, we seek out monastic communities along the way and sometimes book a couple of retreat nights in the midst of our itinerary.  Whether in the United States, Canada, Scotland, England, or Ireland, we've enjoyed warm hospitality and peaceful, beautiful settings in many communities of prayer.  Usually we spend our days in solitude – praying, journaling, resting, eating mindfully, and walking in the monastic gardens, nearby forests, or along rivers or shorelines.  At the end of the day we share an hour of reflective conversation, discerning together how we've been moved by the Spirit.

Because of the ways we are nourished by solitude and communal prayer, we look for ways to incorporate monastic rhythms into our everyday life.  One way we do this is by sharing morning prayer together, using a variety of Daily Office guides from contemplative communities.  We pause after breakfast to sing a chant, listen to sacred texts, and offer our prayers of thanksgiving and intercession as the day begins.

Recently we've engaged in a new practice:  contemplative walking in a nearby nature reserve.  With 150 acres of Northwest woodlands and gardens, Bloedel Reserve, located on Bainbridge Island (WA), offers a welcoming environment for prayer and contemplation.  With an annual membership, we are able to visit regularly – many times with guests but often by ourselves.  When it's just the two of us, we take advantage of the opportunity to engage in a contemplative walking retreat.  For us, that means strolling through the gardens in silence, opening ourselves to sights and sounds unfolding along the way:  ducks and geese floating peacefully on a pond, the unfurling of ferns in springtime, a profusion of colorful blossoms along the trail, reflections of passing clouds in a reflecting pool, sunlight dancing on textured moss and tree bark, birdsong drifting above us, and a panoramic view of the waters of Puget Sound. Each season brings new delights.

Beyond absorbing the beauty and wonder of this special place, we listen deep within for the Spirit's voice of comfort, guidance, and challenge.  At the end of our walk, we pause to talk with each other about what we've seen and heard.  We return home with hearts and bodies refreshed.

Though we can't always get away to a monastery, the practices of solitude, shared prayer, and contemplative walking can enliven ordinary life with the same kind of awareness we experience when visiting a monastic community.
---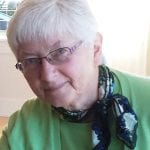 Marlene Kropf, who lives in Port Townsend, Washington, is a spiritual director, retired seminary professor, and ordained Mennonite minister.  For the past twenty years she has regularly led Celtic Pilgrimages to sacred sites in Scotland, England, Ireland, Northern Ireland, and Wales.  She and her husband Stanley enjoy contemplative walking.