I am delighted to share another beautiful submission to the Monk in the World guest post series from the community. Read on for Amanda K. Berg's reflection Surrender and Gratitude.
"Surrender and Gratitude"
 – St. Therese Lisieux

As the wheels of the plane touched ground in Los Angeles, that place in the deepest part of my gut awakened.  You know that place too. It is the place that comes alive when you experience a sense of loss, like losing a loved one or ending a relationship. It comes alive when you realize that you are lost, like a child in the grocery store that went over a few aisles too many, and panic sets in because they are not sure of which way to go.  It comes alive with new beginnings, like starting a new job, a new school, or a new season in life. It is that space deep down within you that is sending a signal that something is shifting in your universe- something that will require your whole self to take note, and is not going to be easy.

After living five, life-giving, green years in Ireland, my family and I returned to Southern California. Repatriation had begun, and I wasn't ready. The year we left, 2011, marked the year California began to experience one of its worst droughts on record. Upon our return in 2016, we found ourselves in the midst of it.  All was brown. There was an eerie lifelessness in the air. The trees in our town looked as if they were barely holding on, pine straw and bark had replaced the once green lawns of our parks, and residential lawns were brown except for the few bright green patches of fake grass which looked a bit forced, awkward, and out of place. Our lawn was no exception. Patches of dirt had emerged where green grass had once been, and a thirty-year-old beautiful Birch tree in our back yard was dead. Our hearts sank.

The first few months I found myself limping along. I distracted myself by reconnecting with old friends, working on our house, and reacquainting myself with life in America. But much like the parched landscape, I felt dried up.

Before I left Ireland, I was finishing up my course in Spiritual Direction, and in my readings, came across this from the 19th Century Carmelite nun, St. Therese of Lisieux, "Jesus does not demand great actions from us, but simply surrender and gratitude." Surrender and gratitude; I keep coming back to these words again and again.

For me, the practice of "surrender and gratitude" sets a framework for my spiritual journey that yields gentle peace and soft joy. I believe they are good companions for all of us. The paths we walk are a mixture of the barren and the abundant, the delightful and the dangerous, the smooth and the rough, the peaceful and the chaotic.  With surrender and gratitude alongside us, these paths become sacred paths of discovery about God, others, and ourselves. God calls us toward a deeper love, to walk these sacred paths together with God and others. When we intentionally practice surrender and gratitude in our lives, we can more earnestly say with Julian of Norwich, "All shall be well."

Many days, I still feel like I am limping along, but I know that one day my limping will turn into dancing, and then, one day, I will be limping again, and so it goes. But what I am discovering, ever so slowly, is that with surrender and gratitude as my companions, my rough edges are a bit smoother, my heart is a bit lighter, and whatever bits I can offer others is offered from that deep place inside. When my gut says change is upon me, I can welcome it and find gratitude peeking around the corner, and invite it to come over and fill this space of unknowing.

The most helpful image for me this past year has been the succulent plant. Soon after moving back to California, I noticed them everywhere. They have become the trendy "it" plant and I am grateful because it means that wherever I go, I see them. At the grocery store, on restaurant tables, at coffee shops, I see them.  What I love about the succulent is that it has learned to adapt to the dryness gracefully. It is filled with sustenance to keep it going through the dry spells. It comes in lots of varieties and colors, radiates a simple beauty, and is smooth to the touch. It resists pests, and gives new life to the soil where it's planted. It propagates new plants by simply letting a dry, unattached leaf that has fallen into the soil, take root and regenerate. It creates new beginnings wherever it finds itself, and sometimes, it even flowers and blooms.

And so, I planted a succulent garden and have placed two stones there that read, "Surrender and Gratitude." Yes Lord, let it be so.
---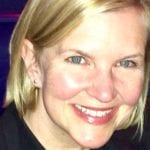 Amanda K. Berg is a spiritual director, retreat facilitator, and speaker living in Southern California with her husband Eric, three daughters, and their little dog Gracie.  After 22 years of raising her daughters, she stands on the threshold of seeing what's behind the next door.