I am delighted to share another beautiful submission to the Monk in the World guest post series. Read on for Janice Burns-Watson's reflection on welcoming the stranger as a friend.
Too many years ago now than I want to admit, I was a young missionary in Kenya.  I was in my twenties, still inexperienced in life and as a minister.  But I was up to a challenge and excited about "experiencing life as most of the world lived it."

To prepare for our time of service my then husband and I were sent to a site near Nairobi to learn Kiswahili prior to going out to where we would be serving for the next three years.  Part way through this training we decided to go out and explore our work location.  While we were there we were given the keys to what would be our home. The two keys were held together with a piece of electrical wire.  It was exciting and scary to receive these tokens that made our stay seem more permanent and real.  But the keys at that point seemed merely to be symbols and not really important.

On our way back to the learning center were we were staying our car died.  Here we were novices to the country who barely understood Kiswahili or any of the local languages and about all we knew is that our car had just died in an area we had been told was frequented by bandits.  We had no cell phone with us.  All I knew to do was to pray.  I don't think I had even had time to put words to a prayer though before a car pulled up behind us.  I remember starting to heave a sigh of relief until I see who crawled out of the car.

Because the man who got out was huge.  He was well over six feet tall and very muscular.  Intimidating in and of itself.  But he also was wearing a turban and had a huge beard.  He was an Asian, as the Black Kenyans called Indians.  A Sikh, who seemed out of place in rural Kenya. It makes me feel horrible now, but I remember thinking that this man might be the end of me.  He very purposefully strode up to the car and asked us what the problem was and we timidly told him.  He told us to pop the bonnet, or hood, of the car, which we did. He tinkered around for a few minutes and then wanted to know if we might happen to have some electrical wire with us.  And yes, yes, we did!  (God provides in funny ways sometimes).  And he managed to get the car running, barely.  He told us that the car would likely die again shortly, so he would stay behind us to fix it again.  And he did, following our car for more than two hours as we limped back to Nairobi.  Fixing the car probably at least four more times.  Once we made it to the city he led the way for us to an auto mechanic who he knew fixed cars for the mission organization we were associated with.  Then he stayed with us until someone from that organization came to pick us up.

When we asked if we could pay him.  He seemed almost insulted and told us to simply remember his good deed the next time we saw someone stranded alongside the road.  To this day I think of him as my Sikh Angel.  The man who I originally thought was my enemy.

What I have grown to realize is that we all too often view those who are different from us as the enemy, when in actuality they are merely a stranger.  What we are called to do as a person of faith is to open our hearts, souls and minds to seeing the Divine Spark within each and every person we encounter.  When we are able to sincerely do that we discover the world is full of a lot more love and peace than we thought possible. And this grows with each person we meet, so that they become our brothers and sisters and no longer enemies.

St. Benedict seems to have understood this when he included the act of hospitality as one of the values we are called to live by.  Given the divisions that seem to be growing more and more prevalent in our world today, hospitality and love are traits we need to actively need to seek to grow within us.
---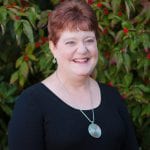 Rev. Janice Burns-Watson is an ordained minister with dual standing with Christian Church (DOC) and United Church of Christ.  She has a certificate in Spiritual Direction and has done extensive missionary work.  She is the single mother of three wonderful kids and a dog.