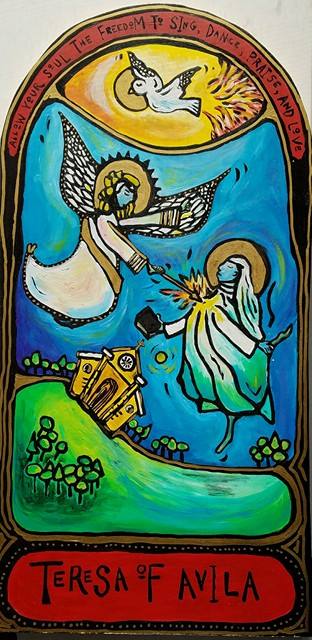 Dearest monks and artists,
We have some new dancing monk icons which we will be sharing with you over the next few weeks. Artist Marcy Hall has been busy at work creating these delightful images.
I love Spanish mystic St. Teresa of Avila's very earthy spirituality, she is known for finding God among the pots and pans. Probably best known for her book on the soul's inward journey, The Interior Castle, in which she likens the soul to a castle made from a single diamond, with a series of concentric rooms within. As the ego is slowly released and love is embraced, the soul eventually discovers the treasure of divine communion at the very center of things. She had such deep reverence for the dignity and beauty of the soul.
In this icon, I asked Marcy to take her inspiration from the famous statue by Bernini in Rome which depicts a scene from her autobiography in which she describes an angel piercing her heart and her state of complete ecstasy. This is the excerpt from her Life:
I saw in his hand a long spear of gold, and at the iron's point there seemed to be a little fire. He appeared to me to be thrusting it at times into my heart, and to pierce my very entrails; when he drew it out, he seemed to draw them out also, and to leave me all on fire with a great love of God. The pain was so great, that it made me moan; and yet so surpassing was the sweetness of this excessive pain, that I could not wish to be rid of it. The soul is satisfied now with nothing less than God. The pain is not bodily, but spiritual; though the body has its share in it. It is a caressing of love so sweet which now takes place between the soul and God, that I pray God of His goodness to make him experience it who may think that I am lying.
This is what I imagine the dancing monk might taste, some of the sweetness of ecstasy that comes when we touch the divine presence within us. We need more of this in our world wrought with division, to bring the tremendous grace of love at work within us more present to everything we do.
With great and growing love,
Christine
Christine Valters Paintner, PhD, REACE
Dancing Monk Icon © Marcy Hall at Rabbit Room Arts (order a print here)