This past October we led one of our Writing on the Wild Edges retreats on the beautiful island of Inismor off the coast of Galway. We will be sharing some of the writing which participants gave us permission to share here in the next few weeks. Up next are poems by Evelyn Jackson.
(If you'd like to join us, we have our dates open for 2018 – August 26-September 1)
The Knitting Place
Bring your intention and a piece of yarn
to the sacred hawthorn tree.
Tie your intention there on one of its branches.
Red berries wink between the leaves
to remind you of the sweetness and tartness of life.
Seven times 'round the well
then the earth lifts up her holy liquid.
Bless all your broken pieces with it
while she knits and purls
you whole again.
Wet and fresh now
go to the standing stone.
Wrap yourself around it.
Rub away the frayed edges.
Smooth the rough places.
Knit whole now
pass through the circle in the sun stone.
Arrive on the other side
as you were when
God knit you together in your mother's womb.
Spread yourself on the ruined altar
to dry in the sun
Warm and full of gratitude
that this place has put back together
what the world has torn apart.
Tap, tap, tap
The old man kneels on damp earth
Wet patches spread at his knees
Joints complain, creak then
Surrender.
He picks up hammer and chisel
Begins to tap on the long flat stone
Laying before him
Gouging a line on the rough surface.
Tap, tap, tap
Gnarled fingers hold tight the tools
Clouded eyes squint to see
Memories of his eighty years on earth
Guide his hands.
Tap, tap, tap
A form appears
Straight lines
Widened, smoothed
A cross
Deep within the stone
The sounds awaken the ancestors
Slumbering in their eternity
Safe there.
Tap, tap,tap
Cross finished,  he raises the stone
Slipping it into the hole,
Tamping earth around it.
A tall monument to his faith.
The ancestors hear his sighs.
They feel him struggle with the stone.
They sense his ragged breath, the irregular thrumming of his heart
And know that soon they will welcome him home.
Tap, tap, tap.
---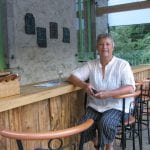 Evelyn Jackson is a retired American nurse currently living in rural France with her dog, Lucie. She has been a scribbler since grade school. Since moving to France, she has been a member of the Parisot Writing Group where she's grown from journaling and blogging to writing fiction, creative nonfiction, life writing and poetry. Her other interest is photography. She combines this with writing on her blog at www.melangedmagic.com