I am delighted to share another beautiful submission for the Monk in the World guest post series from the community. Read on for Jamie Marich's reflection Dancing Mindfully with the Elements.
The invitation to pray and meditate with the elements is fully awakened in my life. I credit much of this awakening to Christine and learning from her sacred work with Abbey of the Arts. Diving in to the various exercises in Christine's books and retreats has heightened my attunement to the elements in the various places that I travel. My own mindful journey and contemplative practices in mindfulness traditions assists in this deepening of attunement. For me, attunement is the glorious practice of noticing what resonates when you consciously decide to live in the present moment. A beautiful synchronicity can arise between you and the moment, you and your surroundings, you and your sacred purpose. Like the sweet sounds gleaming from an instrument when all of the parts and mechanisms are in their proper place, attunement helps me to dance with the lessons that earth, fire, wind, and water wish to teach.

I recently had the privileged of taking a journey to the country of Iceland with my husband David. Iceland was one of those "bucket list" destinations; a place I always wanted to see yet traveling there never seemed practical. This summer, a dear friend of mine passed away tragically, unexpectedly, and much too young. Working through my own grief connected to his death has inspired me to live my life more fearlessly—to take the leap of faith and experience more of those "bucket list" wishes. Iceland is a place that demanded my attention, my attunement to all four elements. Although sometimes my attention was drawn to one element specifically, I generally experienced their grace and glory in their fusion. For instance, heat rose up from the earth causing a hot spring to bubble, and the wind carried the steam from this natural phenomenon to my face and body. I was able to breathe in the warmth and savor the wonder of that natural fusion.

I noticed that spending a week in this place of elemental fusion with conscious intention to deepen my spiritual practice elicited a wellspring of creative expressions from my heart and soul. I am happy to share with you in this blog a poem that I wrote while on this journey and a video of a dance practice that I created while in Iceland. For me, the greater challenge is to continue to move in the beauty of this elemental fusion that so impressed me in Iceland within my daily life here in Youngstown, Ohio. It seems that traveling to beautiful places can inspire me, yet the real challenge is to access the power of these places in my regular life without judging my regular life as boring or ugly. In the video you will see, it pleases me that I was able to film the first part of it in Iceland where the dance came to me, and the second part (the dance along) right in my back yard in Warren, OH. There is a lesson in this transition for me—how can I meditate and pray with the elements every place I go, in every day that I live? How can dancing mindfully with the elements help you to connect to your true purpose today?

ELEMENTS

When my yoga meets the water,
Encountering the clean
Scent of eucalyptus
My entire being floats
In the balm of nature's renewing force.

When my meditation touches the earth,
Sensing the sureness of
Rock beneath my pilgrim feet,
My mind takes comfort
In the security of Mother Earth's assurance.

When my dance moves with the wind,
Gliding with Divine Mother's
Holy breath on my body,
My soul is both exhilarated and terrified
In the uncertainty of how this force will beckon.

When my song greets the fire,
Rejoicing with the pure beauty
Manifest before me,
My heart is warmed by the creative force
Of my human ancestors immortalized in flame.
---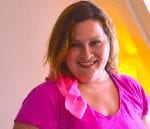 Jamie Marich, Ph.D., LPCC-S, LICDC-CS, REAT, RMT travels internationally speaking on topics related to EMDR therapy, trauma, addiction, expressive arts and mindfulness while maintaining a private practice in her home base of Warren, OH. She is the developer of the Dancing Mindfulness practice (www.dancingmindfulness.com). Jamie is the author of four books, including the popular EMDR Made Simple. She is currently working on her latest book (in collaboration with Dr. Stephen Dansiger) EMDR Therapy and Mindfulness for Trauma Focused Care (due out with Springer Publishing in 2017).