I am delighted to share another beautiful submission for the Monk in the World guest post series from the community. Read on for Joan DiStefano's reflection on lessons learned at Abbey of Gethsemani.
June 6, 2006 the Abbey of Gethsemani, Trappist, Kentucky.

Thomas Merton's grave. I remember that first early afternoon when I was told by a monk to walk near the first tree and find him between two fox's.

Huh?

The tree was easy, it was up a tiny incline of grass, but the two fox's turned out to be the Abbott Fox buried to the  left, Merton in the middle, and a monk Fox on the right. I gazed down at the marker cross with someone's peace symbol hanging on a chain, and decided to add my Tau. I wanted to return someday and would hope to see it again.  Little did I know that day, just how soon I would be back!

Visiting Merton's grave only happened because his Abbey is located an hour from where I had attended a stained glass conference in Louisville.  Fifty years ago it was his book, No Man Is an Island, which I purchased while on a lunch break working at Macy's, my first job post high school. Though  I couldn't comprehend most of it, it secretly hid within me for decades.

So,now, to be starting a five day silent retreat here at his monastery, was the beginning of awakened spiritual hunger.

I was eager to try the monk's day which began with Vigil at 3:15am, and ended at 7:30pm Compline, with the Abbot's blessing and the chant: Have a restful night and a peaceful death.

My second day there, I was shocked to find during my walk along the retreatant's garden path, something sparkling that caught my attention. It was shards, fragments and remnants of stained glass windows leaning against the window panes of an old building beyond the exterior stone walls. I asked a monk about it. By Vespers, another monk found me and took me to the  Abbot, who requested me to come to the Abbey as much as possible and do what I could to reassemble the original stained glass from Germany that was part of the church until the early 60's.

My conversion into "real life" versus "false sense of what life is" began that day.

By November, I was back. I relished the silence, the work, the prayers, the time of personal reflection. This was a radical departure from how the bulk of my adult life had been spent. Riding Harleys around the US, working in topless night clubs, making art, teaching in a prison, raising my son, and being part of violent, volatile relationships. The Abbey was an atmosphere alien to me, because here was a haven of peace..

Early Christmas week,  I needed some supplies, so br. Simeon, took me to the large chain store located twelve miles away. Upon entering the hectic, noisy store, several televisions each playing violent movies, including violent cartoons, were situated at the entrance. Passing by and walking toward the Happy Holidays department, were Christmas ornaments, decorations, wrapping paper, and ribbons thrown all over the floor with people both stepping over and on the merchandise. I asked a clerk where a Nativity scene might be. She didn't know what I was talking about. "What is that?" she asked me. Then answered that there might be some crosses I could buy.

I turned to br. Simeon, and said, "this here is supposed to be real life?  And the monastery is not? This place looks like Hell to me!  This is the manmade life filled with garbage, misplaced aspirations, anxiety, shallow distractions, willfulness and violence."

His reply when we returned to the car was this: "You on the outside are the saints. You have the sick child, the unemployed husband, the leaking roof on your house, the eviction notice, the broken down car, and yet you keep your faith, you rise above the trials and persevere. You come here for spiritual rest instead of taking a nice vacation. We monks don't have your challenges but we have our inner battles day to day. Calm is easy on the surface."

Ten  years from that Christmas have passed. Changes arrived  with the new Abbot, and changes had rooted within me.  Though I start my day later than 3am, what the Abbey rhythm changed within me is my lifestyle, praying, thinking and compassion . . . from turbulence to contemplation.

My studio is situated on the edge of the Bay overlooking San Francisco. Influenced by the welcoming generosity of the monks, led to my creating a peaceful spot with a table and chairs, plants and books for folks who walk by and need to sit and rest.

In one of my large picture windows, I have installed a stained glass window from the Abbey, of Mary, baby Jesus, and St. Bernard.  Each day folks knock on my door to look at it, and then want to talk about where God is or has not been in their life.

I hand whoever would like one, Thomas Merton's prayer for knowing God's Will.

My studio workday is spent in silence, with breaks for spiritual reading. The music in the background is usually Gregorian chants.

I thank dear Thomas Merton who unknowingly beckoned me to a new way of being.  Each day is a new beginning, a daily conversion.

It is possible to be "a monk in the world."
---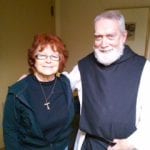 Joan DiStefano from Oakland CA, had the childhood desire to be an actress. Her high school drama teacher told her to go and get real adventures and then later in life become a character actress. With that advice, she proceeded to have experiences both good and not so good! One day, while stranded on the side of the freeway with a broken down motorcycle, she prayed to God asking his will for her life. That surrender took her to where she is now. Not an actress, but a liturgical artist for varied faith traditions, and a professed Secular Franciscan.