I am delighted to share another beautiful submission for the Monk in the World guest post series from the community. Read on for Kathie Hempel's reflection on being a monk at the grocery store.
What is your intention when you go to the grocery store?

Years ago I heard a popular television Bible teacher say God had taught her a lot about excellence at the grocery store.  Simple things like taking the cart back or putting things she had decided not to buy back in the spot they came from.

Ouch! How do we actually represent our beliefs throughout our day? How do we really walk as the mystics, saints and Jesus modeled for us? To me it has to be more than grand gestures, as crazy as that may sound. What can be more, mean more, than the grand gestures?

I will probably never go on a large mission trip. I do not have the money to finance a hospital wing or even make a sizable donation to my local church. How do I answer God's call to serve as a monk in this world?

For a time, I worked as a child's photographer and studio manager in a major department store. I had grown up in a very disturbed home, but I realized that I had the opportunity in that job to make sure that every child brought to my studio felt like they were smart, beautiful and valuable, at least for the time they were with me. I asked the same of my staff. Over and over there was tangible evidence that, that simple mindset, made a difference.

Many years later while standing in line at my local grocery store, there was a young mother unloading her cart to check out before me. She had refused her toddler his demand to grab one of the many check-out temptations and he was letting her know, very loudly, that she was not a 'good Mommy.'

I moved to front of my cart and began to do my best 'motor boat' imitation. It had always gotten young one's attention at the studio. The shrieking stopped. With a snivel the little boy looked at the strange old lady now standing directly in front of him. Mom looked up and then returned to quickly unload the groceries.

After exchanging a few of our best ugly faces the little boy and I were having a lot of laughs. Mom paid her bill and was ready to leave. She gave me a grateful look and a whispered thank you. I held her gaze and said, "You are a very good Mom. He is so lucky to have a Mommy who loves him enough to say no." There were tears in her eyes as she nodded and continued on her way.

"God," I prayed, "please don't let me be the only one telling her that she is a good Mom."  What if I were?

Since that day I have often acted out in grocery lines. And at restaurants and anywhere else I feel 'the nudge.' And I return my grocery cart.

Each day there are dozens of opportunities to be a monk in the world of my own backyard. I don't even have to go outdoors.

What I do need to do is maintain a constant contact with that still small voice within. To be aware of what is happening around me. It can be the tone of an email from a friend, that triggers a 'just because' phone call and leads to an important conversation. What about all those Facebook messages asking for prayer? Do I just click "like" or, when prompted, do I send a private message letting someone I may never meet in person know I care and that they are worth more than a click to me?

When I am out of the house do I walk around looking at my feet avoiding eye contact or will I dare to risk rejection by looking those in my path directly in the eye? If I see pain, I can give the ministry of a smile. If I see a stumble or someone drops a package, I can lend a hand. If someone is short of change, I can share mine. If a child is getting on Mom's last nerve, I can play motor boat.

I am a big fan of the late Leo Buscaglia. He often spoke of putting love out into the world with his stories of meeting a stranger on his daily walk. "Hello," Leo smiles.

The stranger barks, "Do I know you?"
Leo says, "No but wouldn't you like to?" The stranger grunts in the negative and stomps off.

The next day he meets the same man and the same exchange takes place. This time, however, when the man asks if he knows Leo, Leo responds, "Yes. We met yesterday."

This kind of monk-like being in the world will not suit everyone and that is okay. We are all called to use the gifts granted us in different ways. We need but be aware of that mystical presence of the Divine that is omnipresent.

To me being a monk in this world is not about going out and looking for what good I can do, but it is about recognizing the good I might do, right in front of me. It is about becoming a vessel that can hold both the joyful and the painful equally. It is about not caring whether I am student or teacher knowing that the truth is that I am always both, if I don't insist on being either/or.

Like the mystics of old, I am privileged to have a few very important mentors. We share life and insights. We make one another better than we are alone.

It has been said that the miracles many seek are too large and the God they rely on is too small. May I never limit my belief and need to be a monk in this world to only the grand projects. May I always know that my life is made up of all those tiny privileges to serve, waiting around every corner and in the next aisle."
---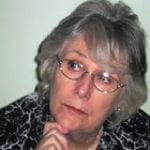 A transplanted Canadian, Kathie Hempel is a freelance writer living in Buchanan, Michigan with her beekeeper husband Phil and her Bichon rescue, Bailey. A mother of three grown sons, Kathie developed a presentation for schools and churches, The Story of Bernie, based upon her experience with one son's struggle with drug addiction and how from the darkest nights in our lives, our greatest lessons in faith and gratitude can emerge. Currently, she is working with her husband on their blossomland.com website and continuing to focus her writing on practical issues of faith.