I am delighted to share another beautiful submission for the Monk in the World guest post series from the community. Read on for Tim Olivieri's reflection on not overthinking compassion.
In my early 20's I lived as a member of a Roman Catholic religious order. Once, while traveling to visit family, a woman in the Philadelphia airport began to make conversation with me. A the time, I was reading  In The Spirit of Happiness by the Monks of New Skete. She told me how her employer had called her to Philadelphia only the night before. She arrived that morning, was unceremoniously fired, and put on the first flight home. She was putting on a brave face and trying to laugh about the inhumanity of it all. I could only imagine the pain, embarrassment, and uncertainty that she was feeling, and would likely feel more intensely later that night. As my flight was called, I gave her my book. She had a long wait, followed by a long flight and then an uncertain homecoming. She was a single mother who was very recently unemployed.

Years later, I am no longer, by all outward appearances, a monk. I am married. I am a father. I wear a tie to my secular job. I meditate daily. But, unlike my former life, I also worry about bills, work deadlines, the sorry state of my retirement account and if I will be able to pay for my daughter to receive the quality education I feel she deserves.

Silence, as a spiritual practice, has always come easily to me. From the time I first read Thomas Merton in high school I began finding peace and serenity once I retreated into silence. My walking meditation has likewise always been an enjoyable practice. Where I have always been lacking was in the area of compassion. Empathy? No problem. I find that I empathize with others readily. I recognize their suffering. I'm just very bad at doing anything about it.

I'm inclined toward introversion. My spiritual practice throughout my teens and 20's was introspective. I empathized with the homeless and the suffering. But I never ventured outside of my comfort zone to learn how to connect with them.  I never would have had the positive interaction with the woman in the airport had she not started the conversation. It was easier to simply bask in my silence. Retreating inward is easy. My challenge is the outside world.

Spiritual exercises are not unlike physical exercises. When they become too easy the benefit to us diminishes greatly. The resistance we experience enables us to grow. Without resistance, there is no growth.

Flash forward to my present life. An Ivy League university with a multi-billion dollar endowment is situated to my right. To my left, you can see the probation office, the drug treatment center and the subsidized housing. Right in the middle is the trendy little walking commons where the two worlds meet. The homeless beg for money and food while the wealthy browse in trendy shops. I have to walk through this space to get to my office every day. My walking meditation often makes me oblivious to those around me. I cannot count the number of times that, wholly wrapped up in my own introspection, I have walked past a particular corner with a daily changing homeless person. Even when I am aware of their presence, I find myself feeling awkward. I'm embarrassed to meet their gaze. I'm too ashamed to admit that I don't know how to help. Too ashamed to admit that I wouldn't know what to say.

One especially cold winter day, I was preparing to leave the office when I noticed three small oranges in the break room that were free for the taking. I love oranges. I put them into my coat pocket and headed out. It was snowing. The falling snow was brilliantly illuminated by the street lights. Students and locals walked about, ducking into expensive shops, upscale eateries and high end cafes. There, on that same corner, was a woman huddled beneath a comforter.

My meditative walk was uninterrupted. I walked over and pulled the oranges out of my pocket and offered them to her.

"Hi, I'm Tim. What's your name?" I said without giving myself an opportunity to think before speaking.
"I'm Sarah. Thank you," she said as she took the fruit.
"Enjoy them, Sarah. Please stay warm."
"I will, God Bless you," she said.

As I walked toward my car I realized that my weakness was not in compassion. Rather, my weakness was overthinking compassion. On this occasion I acted without conscious thought. On any other day I selfishly worried about how I might "do" compassion wrong; how I may embarrass myself by saying the wrong thing. And so, I avoided saying anything. In doing so I missed the point of my meditative reflections and my efforts– to be a better person.

Is there a moral here? Perhaps. Don't think about being a better person. Just be."
---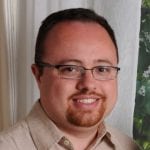 Tim Olivieri is a former member of a Roman Catholic religious order. After leaving the religious life he converted to Judaism. He now lives in Ithaca, NY with his wife and daughter and maintains a daily spiritual practice.