I am delighted to share another beautiful submission for the Monk in the World guest post series from the community. Read on for Theresa Walker's reflection on waiting, letting go, and opening to creative gifts.
Years ago, I waited anxiously to see if I would get the job I had interviewed for. I wanted the job very much. At last my interviewer called and said, "I'm sorry, but I still can't give you an answer." My spirits plummeted. Disappointment, anxiety, and a worrisome desire to achieve my goal gripped me.

That night I dreamed a woman stood in front of me holding a baby. I reached out my arms and took a step toward the baby I wanted to hold. Baby held up her head, looked at me, and said, "I don't like you." What a crushing remark! I stepped back, and immediately the baby leaped into my arms. I held her.

I took the message to heart. Wait. Wait. And wait. And besides waiting, relax, You can't force the giving of gifts. Truly, I felt at peace. I did not take the dream as a sign I would get the job although I did get the job a few months later and worked for my employer, with ups and downs, for the next twenty years. That dream helped me to move away from clinging to one self-centered desire and offered excellent advice for my life: to practice attentiveness, openness, and vulnerability. These were spiritual practices that would lead to peace of mind and bear fruit no matter what job I had or didn't have.

I used to think of myself as a "private person," but in time this label seemed not quite accurate. Through kind conversations with friends on the spiritual path and in my church community, and practices such as centering prayer, I became aware of how self-protective my privacy could be.

For example, coming down with a severe flu turned out to be an enlightening experience. Although friends and a neighbor offered help, I could not bring myself to accept it. After a few days I dragged myself out of bed and crossed a heavily trafficked city street to a nearby supermarket to buy a few items. I almost passed out in the store. Once safely back in my apartment, the foolishness of trying to hide my need for assistance became apparent, and this led me to a clear, conscious decision to open up more to others, to receive help gratefully, and to strive to give help with no agenda.

The spiritual practice that now challenges me the most is the practice of creativity, especially through the tools of writing and painting. Endless creativity is a grace, a gift from birth, but it has taken me a long time to believe the treasure is meant for me. Why wouldn't it be? Being human is.the only requirement for tapping into creativity. Painting, which I started doing in midlife, and writing, which I've enjoyed since childhood, take me far away from protecting myself and deeply into communion. In writing and painting I learn from many teachers, share with fellow creators, and uncover much that is hidden and needs to be revealed. In the practice of creativity, gifts abound, and with abundance comes gratitude, generosity, and service. "
---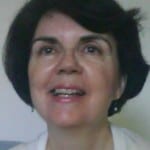 Theresa Walker writes, paints, and works in university press publishing in Washington, DC. She is a registered SoulCollage® facilitator and holds a certificate as an expressive arts facilitator. She has led groups in adult education settings and has shown her paintings in several group and solo exhibits. She completed the leading contemplative prayer groups program at the Shalem Institute for Spiritual Formation.