I am delighted to share another beautiful submission for the Monk in the World guest post series from the community. Read on for Shawn Kafader's reflection on monastic service and retreat:
I have felt the sense of God's presence since the earliest memories of my life. As a child I loved to attend church, listen to the stories of the Bible, and share time with God in prayer. By the time I was a teen I knew that I would offer my life to God in some form of vocational ministry. Not always the smoothest of journeys, I can look back knowing that every scene has added a splash of color culminating in a beautiful dance with God.

My mind is filled with spiritual mentors and companions enriching my journey with God. Pastors and priests, religious and lay, teachers and spiritual directors, friends and strangers, all acting as co-strugglers in uncovering the ever-deepening levels of my contemplative life. A youth pastor inviting me into the world of silent meditation; a college bible study leader challenging me to listen more deeply to God's Word; a spiritual director encouraging me to attend a Centering Prayer workshop; a religious sister opening the world of journal keeping; a spiritual companion suggesting dreams may speak to my daily life; a friend calling me to create spiritual art expressing my encounters with God; a fellow Monk in the World offering me a ministry opportunity offering my gifts and talents to meet a few needs in the world. These, and so many more, used their passions to call my passions forth.

I currently serve on the Chaplain staff of a large continuous care retirement community. The community was founded in the Christian tradition and has grown over its history into a community of many expressions of faith. Much of my work takes place with individuals. My mantra is, "I am here to minister to you in your faith tradition." A passion for ecumenical Christian work has blossomed into a rich inter-faith ministry. Monastic contemplative spirituality lends itself to this kind of work. Many of our traditions share some kind of prayer hours throughout the day. Most traditions use some kind of prayer beads assisting us to plunge the depths of the spirit. All can prayerfully choose colors to express spiritual art. If we can do nothing else together, we can sit in the sacredness of silence, listening for the voice of the Divine deep within our hearts. My ministry confirms the fact that although I deeply love my own Christian tradition, those of different faith traditions share much more in common than I once thought possible.

A highlight of my day comes when I can retreat from interaction with others to my office at work or my prayer room at home. If only for the briefest of moments I am surrounded by icons of saints, the symbols of Christ's life, death and resurrection, prayer beads slipping through my fingers, the familiar words of the Psalms and the renewing peace of sacred silence. Like an electronic device needing to recharge, these moments of retreat allow my generous monastic spirit to take in some nourishment from the One who sustains each moment of life. To be creative in my work, I must take the time with my Creator.

I offer you a recent sacred art creation entitled "Eucharist." My greatest desire at this time of my life is to feed on the presence of Christ in the Eucharist. As a Monk in the World I desire the Eucharist as often as I can receive. I love to go on retreat where I can daily gather at the table of Christ, often finding the time to linger in the chapel pondering how this feeding represents only a glimpse of how God has fed me throughout my journey and will continue to feed me through all eternity. How great is God's love for me and the world.
---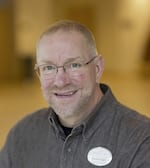 Shawn Kafader, M.Div., MA, D.Min., LCPC is an ordained non-denominational minister and licensed clinical professional counselor. He serves on the chaplain staff of Friendship Village of Schaumburg, Schaumburg, IL where he ministers to the needs of seniors and supervises mental health and art therapy interns. Shawn enjoys offering contemplative prayer retreats on various topics, wanders in nature, creating mandala art and writing poetry. He and his wife Barbara live in Mount Prospect, IL and are the parents of two young adult children.