I am delighted to share another beautiful submission for the Monk in the World guest post series from the community. Read on for Louise Crossgrove's reflection on contemplative writing for social media:
Being a Monk in the World – Does Facebook Count?
This may seem odd as a practice, but I write and respond contemplatively to posts on Facebook. Until recently, my writing had all but stopped. I used to write on a daily basis in my journal. When family issues became more than consuming, the first thing to go was my creative energy. I had retired from full time nursing, though I did return as a casual employee. A niece and her blind daughter moved closer and most days were spent in supporting her and driving the hour to her place and back.
When I retired, I had expected to have more time to devote to writing and pulling from previous writings and poems, the contents for a book or two. I had expected to bring to the world, my words of wisdom to a larger group of people than my weekly emails could reach. I had also amassed an enormous collection of other people's poems and quotes that spoke to my heart and I considered them lessons from the Masters. Each day, a new quote would be perused, read carefully and I would consider how I could incorporate each message into my life.
In the midst of the family turmoil, I looked forward to Monday afternoons when I attended a regular meditation circle. I started to guide in this circle once a month. My preparation consisted of reviewing the aforementioned quotes and poems and using them as the foundation of my guided meditations. Spending time to put together the bits and pieces of a meditation seemed like a kind of meditation all on its own. Looking at quotes to decide which ones spoke to me and how I could use it, became a practice that I looked forward to. Deciding on a recurring theme in my choices for the meditation, took a deepening into myself – to understand the quotes on a different level than if I just read them once. What to put on the focus table took discernment and silence; to decide what figures, objects, cloths and colours I would use for the meditation. During the times I contemplate which quotes to use, which objects for the focus table, which music for the first 10 minutes of the meditation time, I am required to open and expand myself in order to discover all the messages each medium has to give. It is as if, during the preparation, I enter the meditation – to seek the layers and the depths of each quote, or accompanying questions that I pair with the materials. I end with a blessing or prayer I either borrow or create myself. That Monday Meditation Circle continues to today.
This brings me back to the kind of writing I do now. Facebook originally baffled me. Why would people choose to use a public social platform when there are emails and phone conversations which are more private? After about three years of being an observer, I started to do more than press the "like" button. I began to respond to other people's writings. These "friends" of mine began to express their opinions and talk about their own journeys with illness, deaths, seeing the struggles of the poor and cruelty to animals. They wrote comments about what they thought of these worthy and thought-provoking topics. They asked the readers to consider getting involved with some cause or other. I saw that women were writing in a way that supported women's issues and their different take on relationships. I started hesitantly and gradually I became an avid responder. When I feel deeply and passionately about something that was posted on Facebook, I find myself really thinking profoundly about the topic or solution. I have been able to bring my deeply held understandings of human nature and medical issues that are close to my heart to Facebook. I am a serious writer. I had worried that perhaps I would not ever write again. Yet, as I began to post my thoughts to specific pages, ideas that were plumbed from deep inside me demanded that I continue the practice. The careful and considerate responses or original compositions occurred because I took myself aside in time, went deep inside of myself and trusted that my inner wisdom would surface. I trusted that what I had to say was meant to be broadcast in this way. I also felt that whatever channel I opened in the act of writing a commentary or my own considered thoughts would contain a higher level of poetic wisdom. I do not, as yet, write on Facebook every day from my centre. It could be said I am still figuring out how I want to use Facebook in ways that are optimistic, positive by nature and will be helpful to others.
Is any of this a credible description of a Monk of the World practice? For me, the act of writing is a contemplative one. I am a seeker of wisdoms and I also want to reach out to people through my writing. I am only one voice on Social Media. I do want that voice to matter and bring a reverence for life and beauty to the attention of those who seek a way of living with wonder in their eyes and heart. With my practice of occasionally writing from a place of empowerment and love on Facebook, I do feel that my life has become enriched. This is only one of the ways I am living as a monk. It is, however, beginning to count for more.
---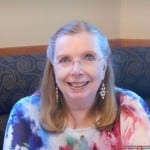 Louise is a retired Occupational Health Nurse, who still uses her nursing skills to teach and empower people to take charge of their own health needs. She is married to a retired Naval Officer and resides in Victoria, on Vancouver Island in beautiful British Columbia, Canada.