Word for today: Yes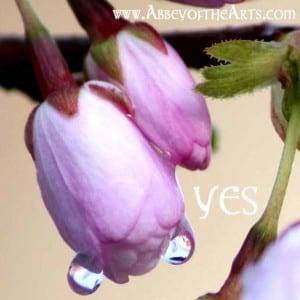 The feast of the Annunciation remembers Mary's own pilgrim journey of saying "yes." She walked into the unknown with only her trust in God to carry her…..What we are not told in the story is the long interior journey of the heart Mary went through before she said yes. This is where our imagination must enter the story and make it our own.
—Christine Valters Paintner, The Soul of a Pilgrim: Eight Practices for the Journey Within
Reflective Question: Can you imagine Mary pondering the possibilities and weighing the options before reaching her decision, resisting her "yes", even while she felt compelled to surrender to the will of the Divine? Where have the annunciations in your life come from? Who were your angels who came calling?