Welcome to Poetry Party #75! (Does that make it our diamond jubilee?)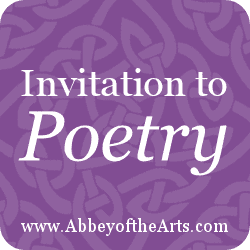 I select an image (*photo above by Lynn Weekes
Karegeannes) and suggest a theme/title and invite you to respond with your own poem. Scroll down and add it in the comments section below or join our Holy Disorder of Dancing Monks Facebook group and post there.
Feel free to take your poem in any direction and then post the image and invitation on your blog (if you have one), Facebook, or Twitter, and encourage others to come join the party!  (If you repost the photo, please make sure to include the credit link below it and link back to this post inviting others to join us).
We began this month with a  Community Lectio Divina practice with wisdom from St. Brigid about having a soul friend and followed up with our Photo Party on the same theme. (You are most welcome to still participate).  We continue this theme in our Poetry Party this month.
Brigid's words have sparked some great conversation at our Holy Disorder of Dancing Monks Facebook group. We can not go this journey alone, but having a soul friend does not necessarily mean having a spiritual director, in terms of someone formally trained for this ministry. Having a soul friend means someone in your life with whom you can share the deep desires and struggles of your heart. The ego can be very deceiving and having another person helps us to always return to the voice of the soul. Sometimes that presence is offered through nature or a creature companion. The photo above, shared by fellow monk in the world Lynn Weekes Karegeannes at this month's Photo Party, shimmers with the sacredness of connection and loving presence between people who share a kinship of the soul.
You can post your poem either in the comment section below*or you can join our Holy Disorder of Dancing Monks Facebook group (with more than 1200 members!) and post there.
*Note: If this is your first time posting, or includes a link, your comment will need to be moderated before it appears. This is to prevent spam and should be approved within 24 hours.