I first met Wil Hernandez through one of the Spiritual Directors International conferences.  He has an irresistible passion for this work of spiritual formation, direction, and supporting people in listening to the voice of the Spirit at work in the world. He has just launched an exciting new project: CenterQuest School of Spiritual Direction, is a fellow Benedictine oblate, and is the author of a trilogy of excellent books on Henri Nouwen, the third in the series released last year, Henri Nouwen and Spiritual Polarities: A Life of Tension, is especially powerful reading.
Read on for Wil's reflections on being a monk in the world:
I'm a proud Oblate of Saint Andrew's Abbey in Valyermo, California! After five faithful years of attending a monthly Oblates group in the San Fernando Valley area, I finally professed my vow during the Feast of Saint Benedict last March of 2012. I've always wanted to be an Oblate and have dreamt about the occasion of my final oblation as one of the sacred moments of my own spiritual journey. There I stood on that special day, in front of a few close friends, vowing to live by the Rule of Saint Benedict as a layperson in the world. It was a highly emotional moment for me, even as I confidently took on the name of St. John of the Cross (Juan de la Cruz in Filipino and Spanish) as my Oblate's name.

Little did I expect that in less than three months after that glorious event, I would plunge into my own version of my dark night experience that would haunt me for the remainder of that year. I could not, for the life of me, make sense of such seemingly ironic twist of fate. Admittedly, it even made me seriously question why in the first place I chose John of the Cross as my saint of preference. Why did I become an Oblate to begin with?

It all started in early 2004! Through the encouragement of my former spiritual director—a long time Benedictine monk at Valyermo—I was privileged to be admitted to the Abbey for a period of six months (in and out) while I worked on my dissertation writing on the spirituality of Henri Nouwen. I was given a special room up on the hill, separated from all the rest, to concentrate on my work. I remembered how, each time the bell rung for the observance of the liturgy of the hours, I'd hesitate to come down to join the monks at the chapel for fear that it would break my momentum for writing. Grudgingly, I'd make my way down with a tinge of guilt, thinking it was the least I could do for the incredible hospitality extended to me by the monks. Slowly, but surely, I found myself being drawn in over time by the beauty of the liturgy. My day would seem incomplete if I missed one of the prayer offices. Without me realizing it, I gradually fell in love with the rhythm of it all and even begun to experience in more ways than one the transforming power of the liturgy in my own life. It's not an exaggeration to mention that my regular participation in the liturgy was what inspired and sustained my otherwise unexciting writing process. I was so impacted by the whole routine that I found myself eagerly appropriating the practice on my own even after I was done with my stay at the Abbey. To this day, I rarely miss praying the Lauds first thing in the morning and ending my evening with the Compline.

Now back to my own dark night episode: It's actually been a while now since that unwanted experience occurred. Looking back, I do have a clue as to how it all happened. Soon after my oblation, I found myself deeply immersed in the busyness of my work, which only led to my sense of coming unglued as a person—experiencing fragmentation more than integration. Before I knew it, when I was confronted with all sorts of challenges connected with my job, I was far from being in a stable state of groundedness. Put it simply, I was caught off guard by the turn of events because I was not as centered as I should be.  I became susceptible to everything that was opposite of anything identified with harmony, balance, stability; I was completely decentered and I did not even know it.

In retrospect, the one valuable interior lesson I learned through my painful "dark night" has to do with the vital role of presence and its direct relationship with a life of centeredness. Suffice it to say, I lost my footing because I lost my own center. For me, being a monk in the world is staying fully centered in God, experiencing a profound sense of at-homeness and interior stillness despite the outside chaos that may surround us at any time. I keep reminding myself, as simple as it may sound, that the rhythm of the prayer liturgy, is foremost, my lifeline for sustained experience of centeredness. And each time I find myself again on the edge of succumbing to the tyranny of busyness, of entering into my cluttered and occupied space, that I need to leave room for God to have the rightful place in the Center of it all. When I fail (and I bet I will continue to do so), I just need to reclaim the Benedictine saying: "Always we begin again!"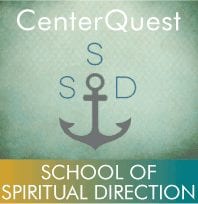 Wil is the author of a trilogy on Henri Nouwen: Henri Nouwen: A Spirituality of Imperfection, Henri Nouwen and Soul Care: A Ministry of Integration, and the most recent Henri Nouwen and Spiritual Polarities: A Life of Tension. He is also the founder and president of CenterQuest (CQ) – an ecumenical hub for the study and practice of Christian spirituality (www.CQCenterQuest.org).
CQ is launching the inaugural cohort for its School of Spiritual Direction (SSD) in the fall of 2014. Early applications are now being accepted. Check out: http://www.cqcenterquest.org/school-of-spiritual-direction/