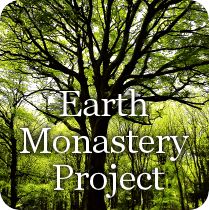 This week I want to introduce a very special project that has been incubating for a while.  It began as a desire to share the spirit of generosity at the Abbey in a more visible way while also making a statement about causes we believe are vital.
The Wisdom Council, John the Prior, and I bring you the Earth Monastery Project.  This is a new small grant program designed to inspire and nourish you in creating projects rooted in contemplative wisdom and creative expression, that are of service to the community and the earth.
How necessary it is for monks to work in the fields, in the rain, in the sun, in the mud, in the clay, in the wind: these are our spiritual directors and our novice-masters. They form our contemplation. They instill us with virtue. They make us as stable as the land we live in.  —Thomas Merton

Take earth for your own large room and the floor of earth carpeted with sunlight and hung round with silver wind for your dancing place

—May Swenson, (excerpt)
The Earth Monastery Project is a small grant program funded by a combination of sources:
5% of the net income from Abbey online classes
Donations from Abbey community members like you
Income from the Amazon Associates program (when you purchase something at Amazon using our affiliated links)
The EMP is a partnership between the Abbey and carefully selected applicants, who will receive resources to complete a Project which nourish an earth-cherishing consciousness and a cultivate a vision of the earth as our primary monastery.
Our hope at the Abbey, is that with a combination of funding, community support, inspiration, and a place to share the fruits of your work, this will be another way for the Abbey community to thrive and serve and offer witness to one another of what is possible on the monk and artist path.
The purpose of the Earth Monastery Project is to cultivate a culture of generosity within the Abbey community and to support one another with the resources needed to inspire new ideas.  We believe that small, thoughtful, and carefully stewarded programs can make a big impact on the world. Together we will celebrate the work completed and share it with the wider Abbey community so others might be inspired to try similar projects themselves.
For the first round of applications, we will be offering 2-3 small grants, of up to $1000.
Three main project areas:
Contemplative: develop a project which nourishes a contemplative awareness and presence to creation. For example through starting a community or church program which teaches people spiritual practices that connect them to the earth.
Creative: develop a creative project which draws on the media of writing, visual art, drama, dance, or music.  For example, creating a series of artwork or poems which honor the earth and finding ways to bring this to your community.  Maybe creating art out of recycled materials and crafting an accompanying reflection process or in response to a specific environmental issue such as the bee colony collapse.
Soul care ministry: develop a project which brings more earth awareness to your ministry of spiritual direction, chaplaincy, counseling, etc.  For example, gathering a tray of natural elements to engage clients in creating altar spaces, finding ways to bring your ministry outside into direct contact with the earth.
(Projects can also be a combination of 2 or 3 of these areas, the suggestions above are only possibilities, so you are encouraged to think beyond these.)
Click over to the Earth Monastery Project to read the application process. Applications will be accepted from September 1-October 31, 2013 and the winners of the first round chosen by December 1, 2013.
Please share this with friends who might be interested in applying.  Perhaps you know someone with great creative vision, who needs a little empowerment this kind of project could provide.
Please also consider making a small donation to support this project by visiting this link (bottom of the page) and help inspire your fellow monks to make a real difference in service to the world.
And the most beautiful part is that after six months dedicated to the project, those awarded will share what happened with the Abbey community as well.