with Christine Valters Paintner, Aisling Richmond, and Deirdre Ni Chinneide
on the sacred island of Inismor off the west coast of Ireland
limited to 16 participants maximum
This retreat will be offered again in 2022


"How necessary it is for the monks to work in the fields, in the sun, in the mud, in the clay, in the wind:
These are our spiritual directors and our novice masters."
– Thomas Merton
Join us for five nights on the limestone island of Inismor, near Galway City, a place of pilgrimage and sacred connection for thousands of years. Imagine gathering with a small community of kindred souls (limited to 16 participants max.), for a soulful inner and outer exploration on a sacred island rich with monastic and pre-Christian heritage dating back to 1100 BCE.
This is a writing retreat for those who want to explore what happens when we take our bodies seriously, as well as the body of the landscape, as a source for creativity and inspiration. Through the natural elements of sky, sun, sea, and stone we will connect to the breath, heart, fluid body, and bones to deeply ground our writing in body and earth to bring it alive in new ways. We will let these elements of earth and body become our spiritual directors and anam caras, leading us to a place of deeper presence in our writing practice.
Each day we will embrace a sacred rhythm of rise and fall, ascent and descent, creating and returning to stillness, so that we might begin to discover the rhythms that nourish our own creativity the most. The days begin and end with gentle invitations to movement, we have a guided writing session each morning, a long and luscious break time in the afternoon, and explorations of voice and the landscape before dinner.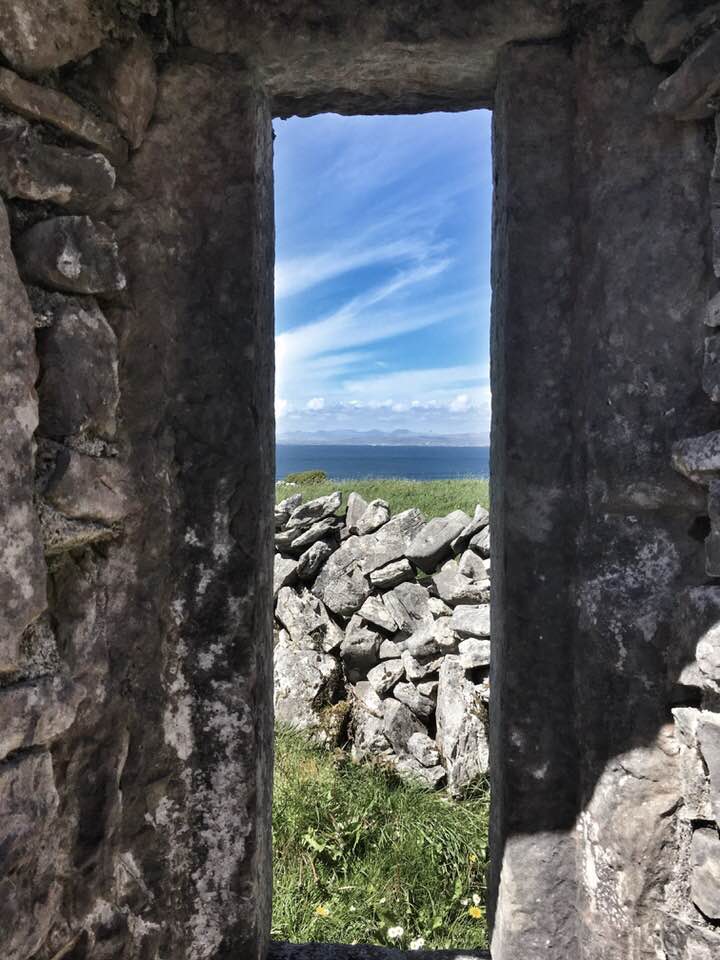 All bodies are welcome regardless of gender, shape, size, or ability. Adaptations for movement will always be offered.
All writers are welcome, whether brand new to writing or someone who has published. The exercises and explorations are meant to nourish your writing as a spiritual practice and be generative in creating new material from body and land-based sources. Voice exploration will help you discover the things you are longing to say. All voices are welcome.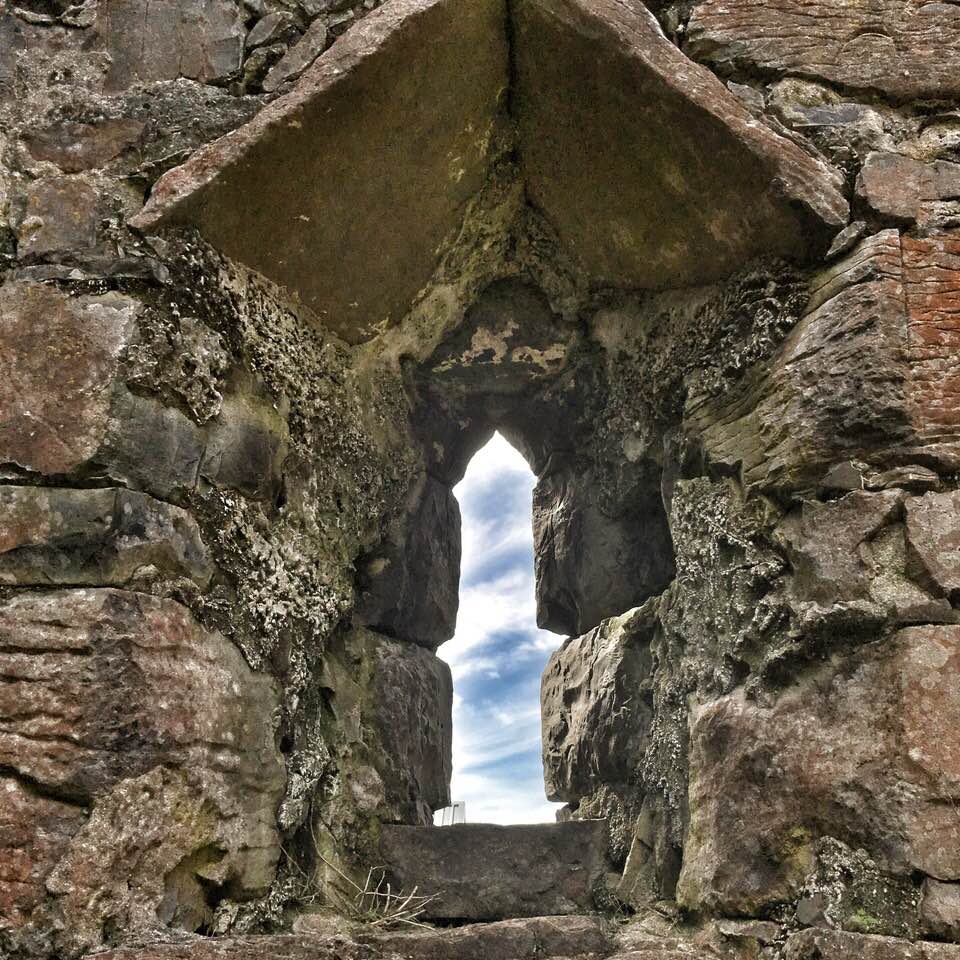 5 nights lodging at Kilmurvey House B&B on Inismor with a delicious hearty breakfast included each morning.
A lovely two-course dinner each night provided by Treasa at Kilmurvey House.
Private van transport for our group from Galway City (meeting at Eyre Square) to and from the the ferry and on the island when needed.
Round-trip ferry to Inismor.
Morning and evening gentle movement to be able to write from the body's wisdom, morning guided writing sessions, and afternoons spent inspired bysong, voice, and the landscape.
Immersion in some of our favorite holy places on this sacred island, rich in story and inspiration, with time for silence, writing, ritual, poems, song, and reflection. These wild landscapes are known for their elemental and transformative effect on the human imagination.
A fabulous community of fellow monks, pilgrims, and writers.
Option to join a secret Facebook group just for Abbey pilgrims.
A list of suggested books for your preparation.
We stay at Kilmurvey House, a lovely B&B on the west end of the island, just next to the trail up to Dun Aonghus, an ancient ringfort from the Bronze Age. Behind the house is a monastic ruin from the sixth century dedicated to St. Colman and in walking distance is a beehive hut used by the ancient monks as a hermitage. The limestone landscape here is sacred. The sea surrounds us. The sky is open and wide.
Each person has their own single room with en suite bath, unless you are traveling with a partner or friend and choose to share a double/twin room. Breakfast and dinner are provided on site, lunch can be purchased from the cafe next door with choices of delicious soups, salads, and sandwiches. Food intolerances can be catered for with advance notice (please contact us first if you have an especially restricted diet).
April 14th and April 19th are both travel days. On the 14th we will meet at a central location in Galway City (accessible by transit from both Dublin and Shannon airports) at 4:00 p.m. and take you on a private shuttle to the ferry, board the ferry for the island, and then another shuttle on the island to our B&B. We take care of all those details, you just need to show up in Galway to meet us. On the 19th we take the morning ferry back to the mainland followed by our private shuttle back to Galway City where we arrive by 10:30 a.m. Please keep in mind that travel time to and from Shannon airport by bus is about 2 hours and from Dublin airport is 3 hours with direct connections available. We will send you all those details.

Morning
Awaken to your body and the day through gentle somatic yoga with Aisling, a hearty and nourishing breakfast, a guided writing session with Christine.
Afternoon
A 3-hour break when you can have lunch at the award winning cafe next door to our B&B, take a nap, go for a walk, or continue following any writing threads from the morning. We gather together again around 4 for a session with Deirdre which will include music, song, meditation, and a couple of outings together to sacred sites to connect with the land and elements in physical ways.
Evening
A delicious 2-course dinner served by Treasa, the owner of our B&B, followed by a gentle evening movement session with Aisling to deepen again into your embodied awareness and help you release into a peaceful night of dreaming.
---
Christine invites you into a daily morning guided writing session which offers a combination of lectio divina practice, free writing from prompts, and structured poetry writing all designed to touch into fresh places of expression inside of you. We will explore writing from our bodies and from the land that holds us and see how we might discover a deeper voice.
Aisling invites you to connect with the power and pleasure of movement, and to discover the sacred elements within. Through both gentle Yoga and Somatic movement, we will explore the resonances between stone and bone, breath and sky, heart and sun,  fluidity and water. As we embody these elements, we can unfold their soul guidance; and through our body's language of gestures and sensations, their wise whisperings can be heard, to support and guide our lives.
Deirdre invites you to listen to the stirrings in the silence and from there, bring our voice into expression and song. Our sound will resonate and harmonise with others as we trust and welcome our true note – the gift of who we are. The embodied voice , earthed in the Aran Landscape will sing our place in the family of past, present and the new song, waiting eagerly to be sung.

We want your pilgrimage experience to be soulfully enriching, stretching and challenging in the best ways, radically hospitable, inspiring, and wildly supportiveof where you are. If you're not sure if this program is right for you or your fit with Abbey of the Arts please be sure to review everything here carefully, read more about the Abbey, about Christine, about the Holy Disorder of Dancing Monks, read one of Christine's books, and if you feel a YES rising up within we eagerly welcome you to join us!
If you still have questions please get in touch by email. If you want to have a brief Skype session to make a live connection, let us know that as well.
When you register you are making a commitment both to yourself as well as to us and the community that forms. We limit participants to a small intimate group. We know sometimes life intervenes and cancellations happen. Please be clear on our cancellation policy. But also please be clear on your commitment to this experience.

Single Room
€1650
priced per person; shared bathroom
Double Room
€1400
priced per person; shared bathroom
A nonrefundable deposit of €500 will hold your space.Pay your €500 deposit and register here »
We offer a €100 discount off your final program payment for previous pilgrimage participants. Please let us know if you qualify for this discount on the registration form.
BALANCE OF PAYMENT DUE DATE: December 14, 2018 for the April 14-19, 2019 program dates
There are no refunds after the final payment is due. Please purchase travel insurance to protect against emergency situations.
You will receive a reminder by email for the final pilgrimage payment along with an invoice for payment. The balance due will be €1150 for single rooms and €900 each for double rooms. Payment can also be made by bank transfer or cheque drawn on USD$ or Euros. Please contact us for details.
INCLUDED
5 nights single room (unless double option is chosen with partner/friend)
daily breakfast
5 dinners
all transportation during the pilgrimage including ferries and private van transport from Galway City Centre
daily guidance from Christine, Aisling, and Deirdre
NOT INCLUDED
travel to get to and from Galway City
trip insurance (required)
beverages
gratuities for meals on your own
all lunches
Breakfasts and dinners will be at the B&Bs where we are staying. Please note that lunches are not included. There is a cafe just adjacent to the B&B on Inismor for lovely and inexpensive lunches.

Please read through this entire page including Policies and FAQs (below) and contact Christine with any questions or concerns.
Go to the Ireland Pilgrimage Registration page, fill out the requested details and submit payment for your deposit.
Sign the Terms and Conditions (click the link to preview them, you will be asked to sign them electronically once your deposit and registration form are completed.) Paying your deposit implies consent to these and all the information on this page.
Purchase travel insurance to include trip cancellation ("cancel for any reason" highly recommended), repatriation of remains, medical, and loss of property. We recommend purchasing as soon as you make the deposit as you can often get the best coverage this way (e.g., pre-existing conditions). While we can't make recommendations for specific travel insurance providers, this website can be helpful in comparing different options.

If you are not from Ireland, you will need a passport to travel to Ireland. U.S. citizens can visit for up to 3 months on an automatic travel visa. EU citizens can enter visa-free. Citizens of other countries should check with your local Irish embassy.
This retreat will require some walking over uneven terrain, rough and muddy ground, and climbing over stone walls and stairs. Pack sturdy shoes/hiking boots and clothing suitable for both cool and warm temperatures, and rainy weather. Rain trousers and a good rain jacket are both essential for comfort.
We will also be traveling by ferry twice (about 45 minutes each way). If you tend to get very seasick, this might not be the best trip for you. In general the ferry rides are pretty smooth, but high winds can bring rougher seas.

What is the weather like?
Bring layers to wear. Ireland is often rainy and cool in spring, but we can also have sunny and warm days. Umbrellas are often useless in the wind, so best to have a good rain jacket, rain trousers, and waterproof boots (we highly recommend all three). It is a temperate climate and rarely gets very hot or very cold (although the damp and wind can make it feel colder). We also recommend a hiking stick to help navigate uneven ground.
What is included with the meals?
Breakfasts and dinners will be at the B&Bs where we are staying from a set group menu. Lunches will be on our own (cafe right next door to the B&B). Your dinner includes a main course/entree and dessert. Beverages are an additional cost. Pitchers of water will be provided to the table.
What payment forms do you accept?
You can pay by credit card, cheque, or bank transfer (we will send details upon request).  If you would prefer to pay the amount in USD$, please let us know and we will send you the exchange amount and instructions.
What happens if I have to cancel my participation?
The €500 deposit/admin fee secures your space in this small pilgrimage/writing retreat and is nonrefundable. The balance of the program fee is due by the dates mentioned above and is non refundable after that time. There are no exceptions to the refund policy.
We require that you obtain travel insurance to cover financial losses from any personal emergencies or other events which require your cancellation.
What happens if the organizers have to cancel the pilgrimage?
In the unlikely event that we either do not have enough participants registered four months prior (by the final payment due date) or if there is an emergency which prevents the guides from leading the experience, all of your pilgrimage fees paid will be refunded or we will offer you a space on a future pilgrimage (your choice). However, we are not responsible for any other losses, including your travel expenses which you may incur due to this cancellation. We require that you obtain travel insurance at the time of your booking confirmation to cover this possibility.
What is the schedule of the day like?
See the description above for the rhythm of our days. We aim to provide rich content and inspiration, while also allowing time and space for your own rhythm to unfold. You are also welcome to take additional breaks when you need to.
Will you match me with a roommate?
Everyone who participates will have a single room with their own bathroom, unless you are traveling with a friend or partner, in which case you can share a double room for a reduced program fee. We do not match participants with other roommates.
How much walking is there?
On our group outings we will be visiting different sites on the island, you should be able to walk 2-3 miles comfortably at a moderate pace over uneven and muddy ground, as well as climb over things if needed like stone steps and short walls. The hike up to Dun Aonghus fort does require some walking uphill, about 300 feet.
How do I best prepare for this time?
Once you say yes, the pilgrimage has already begun! Pay attention to the dreams of your waking and sleeping life in the coming months to see what is being stirred. We will be sending some suggested reading and reflection.
Can you suggest some additional places to visit in Ireland?
Absolutely, we are happy to recommend several other key monastic sites for you to visit before and/or after your pilgrimage. This will be sent with your orientation materials.
What is the best way to get to Galway City?
You can arrive either to Shannon airport to the south (bus runs every hour and takes 1 hour and 45 minutes to reach Galway ) or Dublin airport to the east (at peak hours buses run every half hour and take 3 hours to reach Galway). The buses from both locations are direct to the city center. Galway is served by several bus and train lines. The coach and train station is about a 15-minute walk or short taxi ride away from your lodging. More specific travel directions will be sent after registration. Please allow an additional 2-3 hours travel time to get from the airports to Galway city.
Travel to Galway City is not included in your pilgrimage fee. We recommend adding on a few days in Galway on either end of your pilgrimage if time allows.

Your Guides for the Journey
Christine Valters Paintner, PhD, REACE is the online abbess of Abbey of the Arts, a global community serving thousands of monks, artists, and mystics who are hungry to integrate contemplative practice and creative expression. Christine is also the author of eleven nonfiction books on monastic spirituality and creativity, as well as a poet who has been published in several journals. She has lived on the wild west coast of Ireland for the last five years, falling always more in love with the place. Her forthcoming book The Soul's Slow Ripening: 12 Celtic Practices for Seekers of the Sacred is being published by Ave Maria Press in September 2018.  You can find out more about Christine here or see more of the books she has written here.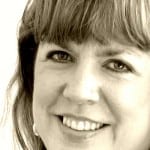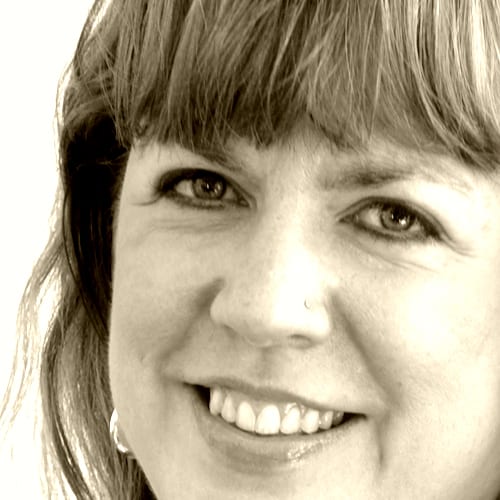 Aisling Richmond, M.A is a teacher, therapist and soul guide living in the West of Ireland. She loves to share with others a juicy, embodied, and creative approach to life. Aisling holds three teaching qualifications in Yoga, Conscious Dance, and Somatics, and is a fully accredited Somatic therapist. In 2011 she earned her Masters degree in Movement Research, which focused on dance as a spiritual practice and healing art. Aisling teaches weekly Yoga classes, runs Somatic Wisdom courses, and works as a therapist to help people to overcome life challenges through Somatics or body-mind wisdom. She runs retreats set in the beauty spots of Ireland, inviting people into a deeper connection with nature. Having worked collaboratively with many organisations including Amnesty International, Aisling has also been a guest lecturer with both Galway and Limerick Universities. Her passion is to support each person's soul growth, and invite a home-coming to the wisdom and wonder of our sacred bodies. Visit Aisling's website here>>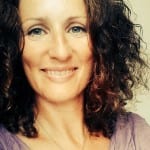 Deirdre Ni Chinneide is trained as a psychotherapist spiritual director and workshop facilitator, she has worked all over Ireland, the U.S.A and Europe including Bosnia and Kosovo. Deirdre divides her time between the Aran Islands and the mainland offering retreats, workshops and performances  of Spiritual Music. The Aran islands with its unique history, culture and natural beauty provides a special setting for her retreat work and was the place of inspiration for Celtic Passage, a CD of music and song exploring a journey of the heart, which Deirdre leads through music, reflection and prayer. Visit Deirdre's website here>>