I am delighted to share another beautiful submission to the Monk in the World guest post series from the community. Read on for Kate Kennington Steer's reflection "following feelings . . . "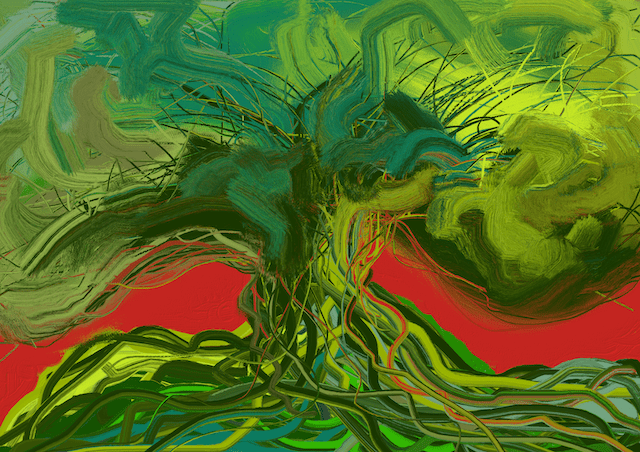 I have always felt that, for a photographer obsessed with ways of seeing, I am particularly poor at discernment. Having studied English at university, I know intellectual techniques for picking apart intertextual meanings, and I have been trained how to read nuance, tone and voice. I am fascinated by how people tell their own stories, in whatever form or language. Yet cajoling my heart into a listening openness, when years of chronic illness and depression have disconnected heart from head, too often feels like an immense task which is beyond me.
Over the past ten years this Abbey has played a crucial part in my emotional, spiritual and creative reconnection, and led me deep into the wonders of Lectio- and Visio-Divina.  I created a sabbath practice of making what I called a 'lectio soul collage', which then provided the basis for a Visio-Divina reflection during the following week. Often this cycle of weaving prayer and silence, reflection and construction, has produced startling, clear, 'words' for me, which I heard God speak into my specific circumstances.  So yes, my soul can recognise when it is being beckoned; my heart can answer the ever-present invitation to belonging; my bodymindheartsoul can be opened to receive that divine nourishment which it so desperately needs.
And yet. It is a standing (not-quite-funny) joke between my therapist and I, that if she asks me the direct question, 'how are you feeling?', all that follows is an excruciatingly long silence. And for a wordsmith, (a.k.a. one who normally has something to say on pretty much any subject) this inability to dig down, to listen, to verbalise what I hear within, shows up my emotional poverty and creative stumbling-blocks. It is a major indicator of what still needs healing in me.
So I am in search of developing my own emotional vocabulary. This could be dismissed as mere navel-gazing by many, who know nothing of the treasures stored within each precious one of us. All I know is that without this reconnection of mind and heart and spirit and body I am nothing: I will have no offering to give to others, no blessing to pass on to fellow pilgrims, I will have no peace, no solace, no health or wholeness.
So, how to begin on such a grand project of (re)discovery? Although, I have a daily negotiation with myself about how to use the tiny amount of energy available to me, when I do get to paint, I love to paint expansively big. Knowing this, my therapist suggested that when it comes to developing a personalised emotional vocabulary, I needed to start small. We came up with the idea of 'following feelings' postcards: to be scribbled on a windowsill on my way between bed and bathroom, making visible what was stuck in my throat or clenching my belly in that moment. The aim was to focus on expression rather than production (always a tricky prospect for a recovering perfectionist), to bypass the brain and go for the gut. Each postcard didn't need to be finished but it did need to be truth, which would serve as the basis for the following week's therapy discussion.
I could write a book about my relationship with the word small, about how depression shrinks your perspective, how chronic pain shrinks your interactions with worldspace, how mobility problems seem to grow in direct proportion to the dwindling of expectations. One day I will tell the full story of how I came to discover the truth that God dwells in my details, by looking at the ground below my window through a camera's viewfinder. I will testify to how, eventually, a sense of vocation has begun to emerge: staying vulnerable, sharing my vulnerability, telling my story of how God meets my desolation and isolation and shows me presence and healing in return. All this is to say: I will simply describe the miraculous.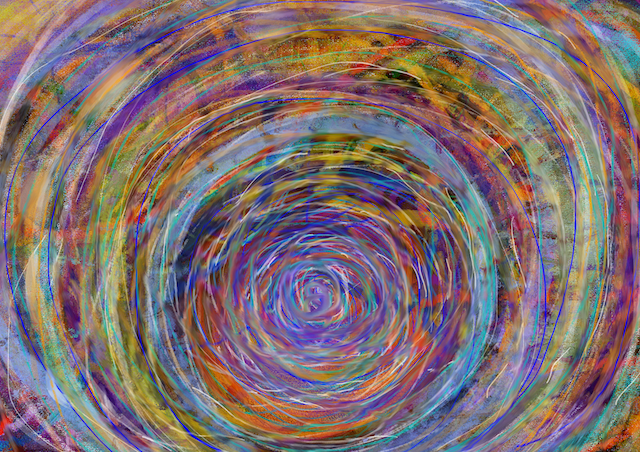 For even out of the most difficult, restrictive and agonising of physical symptoms, I have discovered a way to express some of the accompanying emotional turmoil. Since August 2021, I have been making digital 'finger paintings' whilst experiencing FND seizures (Functional Neurological Disorder). With the aid of the app Art Set 4, one clawed and shaking finger swipe at a time, colour, texture, shape and form transfigure into expressions of pain, of frustration, of anger, of longing, of release; and a 'creative episode' is born at the very same moment I have a seizure. Once my world shrivelled and darkened into a state of not-being but merely existing, where there was no prayer, no poetry, no painting, no photography within me. Since then, with a lot of different kinds of support, my regular soul-work practices are deliberately designed to open up my perspectives and keep them open. My vocabulary is developing – slowly. Through the discipline of sabbath 'lectio-soul collages'; by trusting the process of 'following feelings' postcards; by playing with fingerpainting on an iPad screen, I now find myself about to open a solo exhibition of these 'creative episodes' which, thanks to the wonders of digital technology, translate seizure experiences into large canvases.
I might still have a puny view of a mighty God, but I say: God is in my details; God is in all the details – all our details. Selah.
---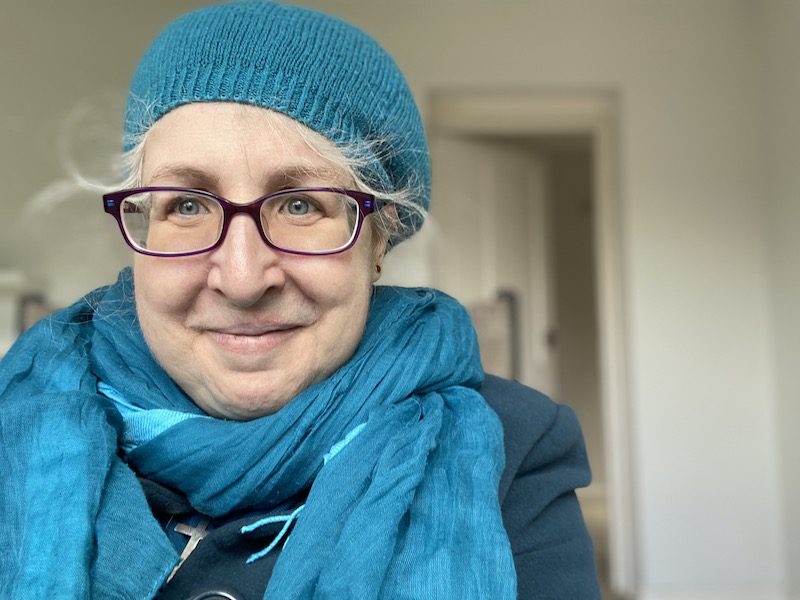 Kate Kennington Steer is a writer, photographer and visual artist. Visit imageintoikon.com or 'acts of daily seeing' on Facebook or her YouTube channel or katekenningtonsteer on Instagram.