I am delighted to share another beautiful submission to the Monk in the World guest post series from the community. Read on for Rosemary McMahan's reflection "The Eyes of Wabi-Sabi".
I recently was introduced to the Japanese Buddhist tradition of Wabi-sabi. According to Leonard Koren, "Wabi-sabi is a beauty of things imperfect, impermanent, and incomplete. It is a beauty of things modest and humble. It is a beauty of things unconventional" (Wabi-Sabi for Artists, Designers, Poets, and Philosophers). Wabi-sabi has an ancient history which began with Chinese Buddhists and eventually made its way to Japanese Buddhists who influenced its current meaning. Wikipedia explains that "Around 700 years ago, particularly among the Japanese nobility, understanding emptiness and imperfection was honored as tantamount to the first step to satori, or enlightenment. In today's Japan, the meaning of wabi-sabi is often condensed to 'wisdom in natural simplicity.' In art books, it is typically defined as 'flawed beauty.'"
I suppose what captures my attention about wabi-sabi is how counter-cultural it is to our Western philosophies and ideals of what is beautiful. We admire those who are fit and glamorous, perfectly "put together." We envy those who own homes with impeccable gardens and golf course lawns. We fill our thrift stores with the flawed objects we have tossed out to be replaced by that which is new and shiny. We often revere successful people who have "made it to the top." We even teach our children at a very young age that to color correctly (and thus with beauty), they must stay within the lines. And as we age, we despair of every gray hair, every wrinkle, every age spot that somehow diminishes what our world confirms is worthy. Washed away in our strivings to be "beautiful people" are humility and acceptance.
A couple of days ago, my partner and I took a hike through the woods near our home. I wanted to practice paying attention to what was in the woods, not just blindly stomping past trees, rocks, plants, the sky. I was surprised by how often I caught myself drifting away, and also grateful for those moments when I did, in fact, see a partially hidden spider web shimmering with drops of dew and a single perfect purple spiderwort in full bloom, both beautiful and unspoiled. But it was the hickory tree, pictured above, that made me stop in wonder—the wabi-sabi hickory tree.
We ventured close to examine the trunks, yes, trunks, of this single tree. It appears that as the tree first began to grow, something bent it over. I am not an arborist, so I have no idea why the trunk decided to curve and bend and then somehow root itself again before growing straight upwards, at least 20 feet high, with bright, abundant green foliage. But for all the tree's mystery, it isn't a beautiful tree. It is an odd hickory, an anomaly in a woods full of trees that knew how to grow upward from the beginning. Yet it touched me more than any of the others because of its strangeness, its awkwardness, and so I keep reflecting on what wisdom, enlightenment, satori, I might receive from it.
Growing out of the humus, the earth, this hickory reminds me of wabi-sabi and the spirituality of accepting our imperfections, flaws, limitations, and impermanence with humility and compassion.  In my own faith tradition, Jesus Christ was able to do that for others, to see them through wabi-sabi eyes. The bent tree reminds me of the story in the New Testament, in Luke's gospel, Chapter 13:10-17, of the woman bent over for 18 years whom Jesus saw with compassion, not revulsion, and healed. Our culture clamors for perfection; we spend so much energy, so much of our lives, trying to impress, trying to prove we are, indeed, worthy, trying to "stand up straight."  Yet perhaps our worthiness resides not in what we do or how we look or what we produce but in honoring ourselves as we are, and others as they are. This misshapen (at least by our standards) hickory tree reminds me that all of us—all of creation—are vitally connected not by our perfection but by our own imperfections, incompleteness, and impermanence in a way that, if we truly want to see as the Christ sees, makes us somehow beautiful.  We are all, each one of us, "fearfully and wonderfully made" as the ancient Jewish psalmist proclaimed (Psalm 139, verse 14) and the hickory tree echoed.
It wouldn't hurt our Western world to practice a bit more humility, a bit more compassion, a bit more awareness of what is truly important and what is not.  So it seems rather fitting that a tree would be that messenger for me.   
The Shell Collector
Imagine God by whatever holy name you
utter, walking along the sandy beach, the waves
roiling and tumbling across feet and ankles
while God collects sea shells.
See God picking up a pearly gray clamshell–
one you would value—
only to toss it back to the sea.
Or perhaps God chooses a whole
sand dollar, perfectly intact,
so rare, and then flings it
into the frothy waves
while you gasp.
Maybe God fancies that cockle shell
with its raised ribs and God remembers
Irish Molly Malone selling her shells
in the streets of Dublin and God smiles
before leaving it on the sand.
You wonder why.
And then imagine that you are a shell,
lying with chipped edges
after your rough ride
through the oceans
and God comes to you.
God lifts you from the tide,
and with a tender hand brushes off
the stray strand of seaweed
to notice your blemishes.
God says to Godself, knowingly,
"This one's been wounded,"
and pulls from God's pocket
a burlap pouch and adds you to it,
along with the shell
broken by an affair;
one chipped by divorce;
one marred by grief,
one that's been lost
for so long it no longer
gleams—none beautiful
or perfect but instead treasured
and precious, and God
walks and walks the beach
seeing in each broken shell
God keeps
God's own exquisite image.
---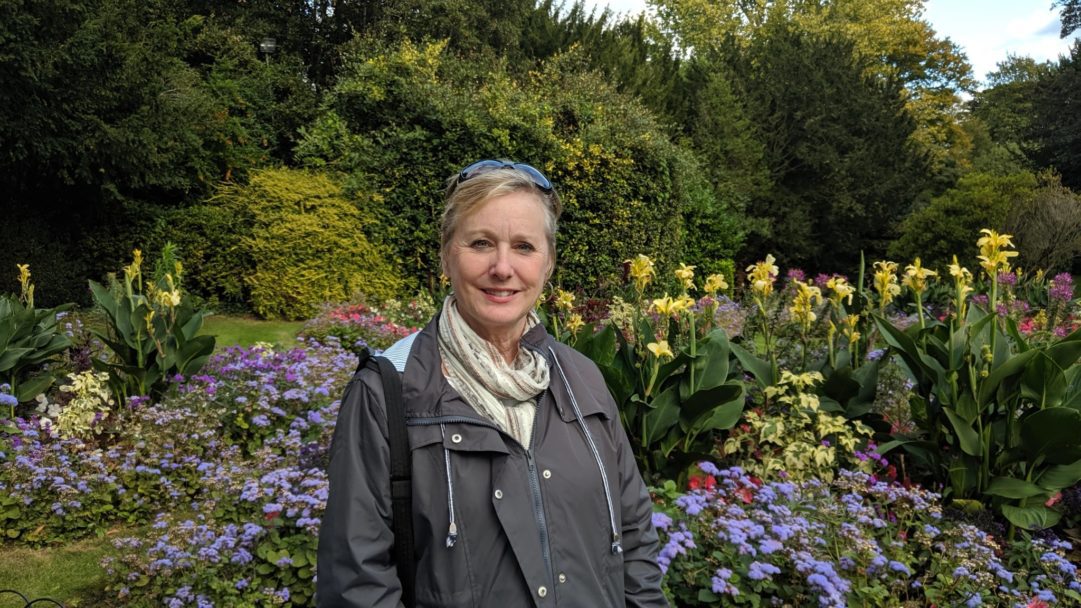 Rosemary McMahan has loved poetry since childhood, going on to earn a BA and MA in English Literature. After teaching English at a local university for several years, she became an ordained minister in the Presbyterian Church (USA), crafting sermons instead of poetry. When she semi-retired in 2020, she enrolled in Christine Valters Paintner's "Way of the Monk, Path of the Artist" workshop and felt a renewed call to write poetry as a means of being both a monk and an artist in a world that badly needs beauty.
Rosemary's poetry has been published in several journals, and she has been awarded three State of Alabama poetry awards. She occasionally records her poetry for a local PBS station; she also writes a blog: Spirit-reflections.org; and Rosemary continues to participate in a Monks and Artists' group birthed from Christine's workshop.  A certified spiritual director, Rosemary lives with her husband Dennis in Huntsville, Alabama.