I am delighted to share another beautiful submission to the Monk in the World guest post series from the community. Read on for Christina Campbell's reflection "Finding a Place of Belonging."
As a self-proclaimed "mountain gal," moving to Iowa 12 years ago was more than a career move but rather one to preserve our family unit. We moved to the prairie from the mountains of Montana to focus on family as we'd been rushing here and there with two full-time, intense careers and 3 young children spending more time with other families or daycare than they did at home. My husband and I looked at each other in exhaustion one evening and one of us said "this is not what we signed up for… this is not the family life we dreamed of." 
To say that the transition to living in Iowa was an easy one would be utter denial yet we made it work… with more running around. Back to the West every summer to be where "we belonged." One foot in, the other foot out; each day I dreamed of moving home to the mountains.
Ironically, in 2016, on a pilgrimage of sorts, I spent 10 days in Shetland, Scotland exploring the isle, culture, history, knitting and so much more. They say that once you visit you leave a bit of your heart in Shetland. Here I was, a place with no mountains and very few trees yet I felt that presence of "home." An energy from the Earth, sea, and sky that moved my soul… a connection that to this day has left me in awe of this marvelous rock in the North Sea.
My Shetland experience taught me that I could feel a sense of belonging in a place other than the mountains.  Each time I've returned (2017, 2019), I've fallen deeper in love with the isles. So much so that in 2020, I was to travel to Shetland three times for work and leisure. Yet, nothing about 2020 was to go as planned and in March 2020, I found myself suddenly confined to the prairie of Iowa… a place I did not want to be.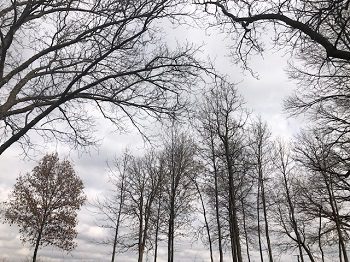 I found myself making daily excursions to the local woods, a place of shelter. The giant oaks still bare and exposed as winter lingered with branches reaching up and out as if searching for something. And there I was, in the midst of the trees, feeling lost, scared, and anxious…
And so it was, that I would walk through the oak savannah on the Iowa prairie almost daily for a year. Searching for a connection to this place.
*
Oh Scholastica, Dorothy, Theresa… show me the way to belonging.
Oh Brighid, Freya, Eirene… light the way to peace.
Oh snow, rain, and sun… nourish me on this journey.
Oh oak, sycamore, maple… protect and shelter me.
Oh bald eagle, racoon, mink… guide me in the air, land, and water.
Oh bluebells, coneflower, goldenrod… connect me to this place.
*
In early February, I entered the woods on a daily walk and my entire being felt at ease. As Padraig O'Tuama would say "hello to here."
Hello woods and river and prairie.
Hello to being here and not anywhere else.
*
A year into the pandemic, I returned to my yoga practice. Although I'd been walking, I'd also been sitting a lot while working from home. Let's just say that returning to yoga was extra hard. During a hot, sweaty, challenging class, I paused.
I kneeled on my mat.
Grabbed my iced herb tea,
wrapped my hands around the old jelly jar that was now my cup,
brought the glass to my lips.
The tea made from plants foraged by a woman who lives at the
edge of the North Sea in Shetland.
And as the prairie water infused with the plants grown in the soil of Shetland
Entered my physical being,
An awareness moved through me;
I was at this moment
connected to both the prairie and Shetland.
*
Oh Scholastica, Dororthy, Theresa… I belong here
Oh Brighid, Freya, Eirene… peace is here, in this place
Oh snow, rain, sun… your nourishment sustains me
Oh oak, sycamore, maple… we protect one another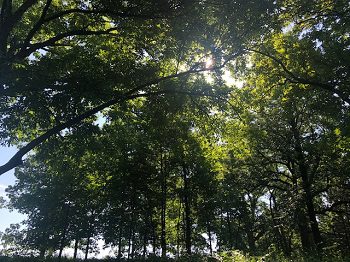 Oh bald eagle, raccoon, mink… you have guided me
Bluebells, coneflower, goldenrod… we are all connected.
*
And so it was, through this year of many lessons, that one self-proclaimed "mountain gal" was guided by saints, goddesses, elements, trees, animals, and flora…
to find a place of belonging on the prairie.
Reference: Padraig O' Tuama. In the Shelter. Finding a home in the world. 2015. Hodder & Stoughton Ltd: London.
---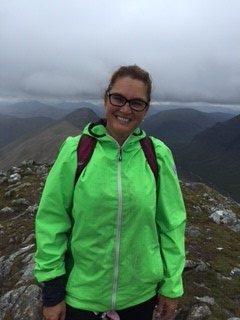 Christina Campbell lives in Ames, IA. Lover of nature, solitude, and wild spaces. Mother, wife, daughter, professor, knitter, writer. Striving to create a peaceful world through creative works and affordable access to healthy food for all. Christina writes about knitting, walking and peace on her blog The Healthy Knitter.