I am delighted to share another beautiful submission to the Monk in the World guest post series from the community. Read on for Sheila Carroll's reflection, "Stories as Gifts—A Contemplative Practice."
If stories come to you, care for them. And learn to give them away where they are needed. Sometimes a person needs a story more than food to stay alive. —Barry Lopez, Crow and Weasel
As contemplatives we look for ways to deepen our own spiritual lives and make ourselves more available to others. Story is one pathway to deepening our own pilgrimage and blessing the path of others we know and love.
On my friend Ralph's seventieth birthday his house filled with friends come to wish him well. Ralph and I were old friends and I sensed this birthday was not an easy one. He was despondent about aging and, even more so, his unfulfilled dreams. Standing on the threshold of his elder years, the vista seemed bleak.
I told the story that I thought he needed, one that would inspire hope and give meaning to this moment in his life. The perfect choice was "Fortune and the Woodcutter,"1. a tale about loss and the return of Magic.
As my story unfolded, his eyes began to twinkle with an inner light. He was clearly pleased to have his concerns acknowledged in a safe but imaginative way. The ending had an implicit promise that all the pathways of his life will ultimately bring him wealth—perhaps not money but meaning.
It was balm for his troubled soul—and to the others present. Each could find their own place in the story.
Giving a story is an act of radical hospitality that invites the listener to "come home" to themselves. The act of giving a story can help someone reconnect to their soul's deep purpose. Story builds community and offers a sense of belonging in the world. Stories by their very nature bring wholeness because they heal and give us glimpses into the truth we so desperately need in order to live.
Story As a Gift of Time and Meaning
The Sufi mystic, Idris Shaw told a story about two doctors, "Time and Pomegranates," in which the young doctor went to a sick woman and prescribed pomegranates as the cure for her ailment. Sadly, she did not get well but only worsened.
The young doctor asked the older for advice. The elder said he would personally go and see the woman. A few days later the woman was completely well.
"What did you do to cure her?"
"I gave her pomegranates."
"What! That is what I did and she did not get well."
"Ah, said the older man, "I gave her something else as well."
"Please tell me?"
"I gave her time, time and pomegranates."
Stories can be a life-saving gift. We can't know for sure. We can only trust the power of the story to be the medicine the person needs. Consider a person in deep despair and seeing no way out. Simply reading a story aloud to them or better yet, telling it is a gift of time and meaning that may well save them.
When you do offer a story to someone in need, a word of caution; avoid telling the story recipient what you think the meaning is for them. If you respect your listener enough to tell the story, respect them enough to draw their own conclusions.
A disciple once complained, "You tell us stories but you never reveal the meaning to us."
The master replied, "How would you like it if someone offered you fruit and chewed it up before giving it to you?"
No one can find the meaning for you. Not even the master.
Finding Story Gifts
Here are some suggestions for gathering and giving story gifts.
*Collect your favorite stories from readings into a notebook.
*Read any of Christine Valters Paintner's books and note the stories embedded in them.
*Write or record stories of your life and give them as sacred gifts to loved ones.
*Be intentional about meeting a friend over tea and share memories of sweet past moments together.
*Call an aging relative and tell them a story of something you did together and what it meant to you.
*Use stories of the mystics and saints as part of your daily prayerful meditation.

Sources for Story Gifts
There are many wonderful collections; here are some of my favorites.
Thomas Merton, The Wisdom of the Desert, New Directions (1970).
William R. White, Speaking in Stories: Resources for Christian Storytellers, Augsburg Publishing House, (1982).
Idris Shah, Tales of the Dervishes: Teaching-Stories Over a Thousand Years, Isf Publishing (2019).
Steve Zeitlin, (editor). Because God Loves Stories: An Anthology of Jewish Storytelling, Touchstone Books (1997).
---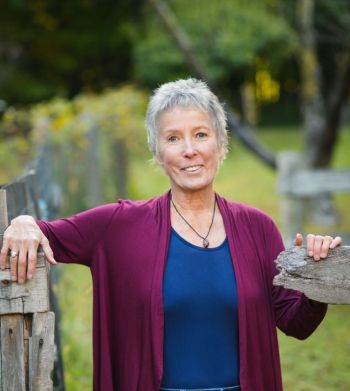 Sheila Carroll is a storyteller and narrative therapist who is steeped in the oral tradition of her Irish ancestors. Sheila uses the timeless art of story medicine to offer healing and hope to those struggling with illness, depression, post-traumatic stress, grief and loss.  Sheila believes passionately that now is the time each of us must find our unique voice and story—the soul's fullest expression of itself.  Learn more about Sheila's work at SheilaCarroll.com.
Notes
1. Allen B. Chinen, In the Ever After – Fairy Tales and the Second Half of Life.