I am delighted to share another beautiful submission to our Monk in the World guest post series from the community. Read on for Colette Lafia's reflection "Love is Our Anchor."
This past Spring, when wildflowers and poppies were blooming everywhere in Northern California, I felt my heart sing every time I saw a display of color and exuberance. Yet in the midst of this joy, I found myself facing the anxiety and uncertainty of returning to in-person instruction in my role as a part-time public-school librarian.
As I sat in a Zoom meeting with 30 other staff members, trying to absorb the complex logistics of schedules and COVID protocols, I felt myself sinking under a wave of fear, both within myself and among my colleagues. Yet, from years of engaging in contemplative practices, I knew this was a time to pause and draw on inner quiet and strength.
As a monk in the world, I knew I needed to anchor myself in love. The powerful words from St. Teresa's bookmark prayer came to me with conviction: "Let nothing disturb you…God never changes."
St. Teresa teaches that our soul is a castle with many rooms, and in the center of the castle, which she calls the seventh mansion, God dwells – at home within us – unflinching, and abounding in mercy and love. It is here in the Divine heart within each of us that we can find our anchor of love.
Alone by myself, I knew I couldn't withstand the fear, worry, and uncertainty we were facing, but being anchored in the benevolent spirit of Divine love, I found a way to move forward and face the challenges in front of me.
In my new book, The Divine Heart: Seven Ways to Live in God's Love, (Monkfish Publishing, May 2021) I share reflections, prayers, and practices to help cultivate greater awareness of Divine Love that permeates our hearts, our lives and the world around us.
"As we are called to integrate so much paradox and pain, we need love to help heal, strengthen, and restore ourselves…Each of us has a Divine heart, an identity we share. We not only align ourselves with love and connect to love, but we also recognize that we are love. Listen to the longing in your heart and allow yourself to embark on a spiritual renewal, a journey into the Divine heart, into unity, connection and belonging… Born of love is hope. In the depth and breadth of our sadness, we will find grace, love, and a way forward."
–Prologue, The Divine Heart, Colette Lafia
In The Divine Heart, I unfold seven qualities of living in God's love: Receptivity, Delight, Expansiveness, Acceptance, Vulnerability, Mystery and Gratitude. I reflect on my own experience cultivating these practices, and show how each quality can help us anchor ourselves in love.
As we continue to live in times of great uncertainty and anxiety, it is essential to remember that we are capable of growing in love, both in the love we receive and the love we can offer the world.
My hope is that as a monk in the world, I can offer inspiration and encouragement for the journey from fear to love, from anxiety to peace, from doubt to trust. Hope is knocking on our door. God's love is waiting. Let us welcome it in and rebuild our sense of togetherness.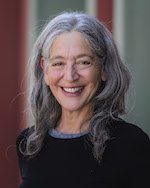 ---
Colette Lafia is a San Francisco-based writer, spiritual director, and retreat leader. Her new book, The Divine Heart, Seven Ways to Live in God's Love is now available. Colette has a passion for helping people connect more deeply with the presence of the sacred in daily life. She designs and facilitates retreats for an international audience and has an active practice as a spiritual director. Learn more about Colette at ColetteLafia.com.