I am delighted to share another beautiful submission to the Monk in the World guest post series from the community. Read on for Peter Nagle's reflection on retiring to the edge.
My life partner Joy and I are from New Hampshire and Ct. We've been married 20 years coming up and worked together in our former business: A Private Financial Advisory Firm. It was a 38 year career for me. I always considered what I did a ministry. But both of us longed to find a quieter, more simple life. That opportunity presented itself 3 years ago when, out of nowhere, a larger company offered to buy us out. We took the offer and retired.

Finally we had our chance to live the quiet faithful lives we yearned for, and to live them on the edge.

Though we lived and worked in CT, we had had a home in Hawaii for the winters as well for 6 years. Hawaii (Oahu in our case) is an incredibly beautiful place. Warm, lush, green – I described it as a womb-like place. But we knew we couldn't retire there. I know this sounds incredible but it's just too beautiful, too separated from the rest of the world, and as such unchallenging. We needed to be someplace on the edge. Someplace spiritual that would challenge us to become who we were meant to be.

We found that place in Northern New Mexico. I was trained there to be a Spiritual Companion and also attended the Living School there. So we had occasion to come here often. It's mountains and desert here. Starkly beautiful, with a huge horizon, and not a little danger. If you go out into the desert unprepared, you're unlikely to come back. The desert is not forgiving. Scripture stories of Jesus going into the desert to pray bring to mind how purifying the desert is. It is definitely living on the edge here, and we love it.

We live like monks really, I've said that for years. The atmosphere in our home is soft, quiet, with beautiful sacred music. People always comment how calm and soothing it is in our home.

Joy is a certified yoga instructor and that is a big part of her belief system and life. She teaches Yoga weekly at Dancing in the Desert in El Rito and continues to study her craft very deeply. I am a Spiritual Companion and it is very meaningful to me, to help people sort out their spiritual lives. I have a private practice, and also do spiritual companionship for Richard Rohr's Living School, as well as for Ghost Ranch.

Together we care for pilgrims that come our way, Joy with her yoga and healthy nutrition, and me with spiritual guidance, and of course, the land. We have a retreat house that is quiet, secluded, and with wonderful views and lovely hikes of all kinds. Our house faces the West and we witness the amazing sunsets nightly. Silence is a close companion here. The kind of silence that allows you to explore your inner depths to discover who you are and what God created you to be.

We also travel the West to witness its incredible beauty and people.

I want to say one other thing. In addition to the desert being on the edge, the people and life here are very much "on the ground". People live close to the land here, the earth. Many people are poor and have little in the way of material possessions. It's quite a contrast to Fairfield County CT where we lived for so long. But it feels so much more real here. People are real. They are kind and love to talk story.

We still keep an open mind for our place of resurrection. This may be it, who knows? We are listening for the call and are definitely hearing it now. In the meantime we continue our search, along the edge, with faith and love.
---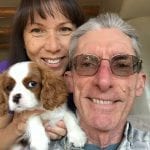 Peter Nagle's life has been guided by deep faith and spirituality, and he loves to help people with their own spiritual path. Peter is certified as a Spiritual Companion and lives in Ojo Caliente NM with his wife Joy, a yoga instructor. He is a retired financial advisor. He holds a Masters in Religion from Yale Divinity School where he graduated cum laude in 1996. Peter is a Spiritual Companion for Richard Rohr's Living School Students, and he graduated from that program in 2016. Peter is currently focusing on building his Spiritual Companion practice (also known as Spiritual Direction). He and his wife, Joy, have four daughters and four grandchildren. Visit him online at Soulwork.Faith