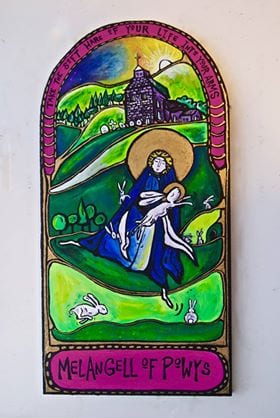 Did you know that you can order high-quality print reproductions of all the dancing monks in our icon series by artist Marcy Hall? The prints are 5×10 inches mounted on an 11×14 matte ready for framing. Imagine inviting St. Hildegard, St. Benedict, St. Brigid, St. Francis, Mary, or one of the 20 other monks and mystics we have images for into your sacred space or as a wonderful gift for a loved one.
Plus we'd like to introduce the newest addition to the dancing monk series, St. Melangell from Powys in Wales, the patron saint of hares. I have recently fallen in love with her story:
St. Melangell was originally from Ireland and wanted to flee an impending marriage and so went to Wales to live as a hermit. She lived there for many years when one day a group of hunters with their dogs are chasing a rabbit across the fields. The rabbit leaps and bounds and arrives to where St. Melangell is living and jumps into her cloak for protection. The hunters and dogs are unable to approach and the prince who is with them is so impressed by this woman's presence that he gifts her all the land surrounding her hermitage. She says that she will receive it only if it can be a place of sanctuary for any animal in danger.
There is still to this day a chapel in that valley in remembrance of Melangell and the place is still considered a sanctuary. We are called to seek the wild spaces of our lives, to break free from the places that feel confining, but also to find places of sanctuary where we are offered the gift of rest and safety. From there we can find nourishment to return again and again to the wild edges. Click this link to order an icon of Melangell>>