I am delighted to share another beautiful submission to the Monk in the World guest post series from the community. Read on for Lorraine Roy's reflection "Thinking in Circles: A Journey Through the Rings."
Heartwood – Oak   Framed textile, 12×12"

At the moment I'm shutting down my textile studio after a long day. The chaos of my work surface recedes. My thoughts take a quiet stroll through the day's creative journey, where my eyes and hands led me outward from the warm heart of a tree, and back in again.

I have been a professional artist working with textiles for over 30 years. I also hold a BSc in Horticultural Science. Not surprisingly, my work is inspired by trees and the many ways they connect with each other, other organisms and humans. The biology, mythology, culture and symbolism of trees have given me an infinite source of material to draw upon, gracefully guiding me from one absorbing subject to the next. Lately my generous muse has led me to circles.

The circular motif perfectly mirrors the inter-dependence of forest trees in their natural setting, and reinforces a spiritual interpretation of this remarkable phenomenon. Recently, I finished producing a collection of twelve round wall hangings called Woven Woods, which highlights the science of tree communication.  Circles took hold of my imagination and, in my wish to delve deeper into their mystery, I came upon the idea of working with tree rings. Tree rings are a living journal of a tree's history: its growth, development and endurance. They record events in the life of a tree by building layer upon layer of fresh cells, leaving the marks of events forever preserved within.I'm intrigued. My new task is to explore a question: what can tree rings teach me?

Wind in the Willow #2   Framed textile, 12×12?

Taking this challenge to the studio, I begin by layering circle upon circle of plain and printed fabrics, and stitch them down. Each new layer represents a fresh phase of the tree's life. In my mind I situate myself at the heart's core, and, like a tree, build outward, letting stitches and colours guide me.

Through the rings I imagine tracing my own life path, from youth, to jaded young adult, to my long break from my Roman Catholic roots. I lose myself among the layers, through the various bumps and spots, the tortuous side trips, the dark tunnels, each step leading me further from the heart. Eventually I finish the rounds, and find myself outside the circle, past the bark layer, surrounded by empty space.

I look down at my work, surprised. How did I get here, so far from the heart?

Mother Oak   Framed textile, 16×16?

As I examine my emotions, I am suddenly reminded of my many failed attempts at communing with real trees. I've studied various techniques on how to approach them, imagining the power of their radiating energy, hoping to experience a warm response. Nothing works. I am always on the outside, cold, rejected. Perhaps I am taking the wrong approach. I wonder – instead of expecting energy to radiate outward from the tree, why don't I allow it to draw me in? Is it possible to follow the rings back in as I have come?

Curious and excited, I seek out a grand white oak and press my arms around her fragrant being. I let go of expectations and allow myself to fall. The difference is magical. In this moment I stand at a labyrinth's entrance, sensing the power of her heartwood. I am guided inside, drawn up into the branches, and pulled downward into the roots. At last, the right way to approach a tree. And perhaps this is the finest message of all: she has always been there for me.

Call of the Heart   Fabric wall hanging   36"

We move through our lives unconsciously collecting, storing and sometimes burying our own memories. We add layer upon layer of life experience and distraction, moving around and away from our center. We need to be vigilant because at any moment, we can be offered the gift of return. I examine my own life trajectory – one that took me far from my roots, physically and spiritually. The centre is slowly, miraculously, calling me back, and I am listening. It will likely take a few more curves and tunnels to recover, uncover, the span of my life, but a true strong heart awaits. All I need to do is let myself go.
---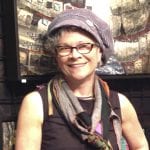 Lorraine Roy has a BSc in Agriculture, majoring in Horticulture. She has been a full time professional artist working with textiles for over 30 years. In her work she focuses on trees and the myriad connections they have with each other and with other organisms and humans. She lives and works in Dundas, Ontario, Canada. Connect with her online at www.LroyArt.com