I am delighted to share another beautiful submission to the Monk in the World guest post series from the community. Read on for Sophia Diehl's reflection A Dance of Stillness. 
Sometimes I go to a contact improvisation class to pray. As a dance student, trained to speak through the language of the body, contact improvisation allows me to enter into an intimate conversation with another person. Developed along with the rise of modern dance in the 1960s, this movement form requires a sharing of weight, a spontaneous giving and receiving with a dance partner. 

In my prayer life, I find myself longing for response. When pouring out my desires and concerns, I want to be met with a tangible touch. Contact improvisation reminds me that all of my thoughts and actions are received. Far from shouting into a void, dance depends upon the presence of another person. Dancing with someone reminds me of that well-known insight of physics: "Every action has an equal and opposite reaction." I also find that every action has a surprise.

In a recent contact improv class, I danced with one of the regulars. In the middle of our dance, he paused and asked me, "Can I give you some advice?" Bristled, but curious, I consented. 

"You move too quickly," he told me. "You're always moving on to the next part of the dance, before we finish one moment." He placed his wrist against mine.

 "Stay with one point of contact for as long as you can. Then, trust that the next piece of the dance will emerge from there."

My dancing transformed. 

I tried what my partner suggested, remaining with one point of contact for as long as possible. This was complete presence. Meditation. The next phase of the dance always came. Before I knew what was happening, a hand to hand connection became a turn through the space, and our shoulders touching became a lift. My mind dropped into my body. I no longer made the dance happen; I allowed the dance to have me. 

My partner's unexpected advice has trickled into my dance with life. I am experience-hungry. I continuously reach for the next new place, new person, new situation. In the same way that I eagerly move through an improvised dance, my mind seems to live in the "next"of my life.

My new practice is one of staying. Last summer, I spent two weeks learning InterPlay, a movement improvisation system. The leaders engaged us in an exercise called shape and stillness. We simply held a shape with our bodies and changed that posture when desired. While I continuously shifted my body in and out of a multitude of positions, I noticed my friend holding one shape for the entire time allotted. 

I was surprised by his gift for stillness and complimented him later. With a smile, he held out his hand to show me the bracelet on his arm. It read, "Stay." He explained that his way of mindfulness required a willingness to sink into the present. To him, this practice of stillness was one of remaining in the present moment, even through discomfort. 

At the time, I admired his commitment but couldn't get beyond the word "stay" as static and unchanging. How could I connect with the God of movement and flow by staying still? 

 Contact improvisation reshapes my experience of stillness. Steadily holding the moment creates freedom, rather than restricting it. If I allow myself to be completely interested in the simplicity of a touch, the next moment always arrives. In my eagerness to move onto the next part of the dance, I had forgotten my dancing partner. And in my desire to constantly move my life forward, I had forgotten God. 

In this way, "Stay" has become my new mantra. When I hold a conversation with a person, I try to remain with their words for as long as possible, akin to squeezing every bit of juice from a lemon. I listen deeply and long. When I notice a moment of beauty in my walk through Seattle, I stay with the image for longer than feels comfortable, soaking in the color or the light of this particular instant. I hold eye contact with a passerby on the street for a few extra seconds. 

Ironically, these choices to "stay" foster more movement in my life. In a recent conversation, I chose to sit and engage for longer than usual. My friend coaxed me through a much-needed insight, which allowed me to move through some confusion. My sense of time stretched out. When every moment is everything, I have nothing else to rush into. 

This practice is a dance of trust. Trust in the fact that I am not the only being on this stage. This person I am speaking to has the wisdom to move our dialogue forward, and this flower I am gazing at knows where to take me next. Movement and stillness become one. 

Life becomes more joyful when I realize that I have a dancing partner! I drop my own choreography and begin to move.
---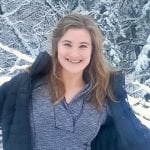 Sophia Diehl studies Dance and Religion at St. Olaf College. She has a passion for integrating movement and spirituality. Sophia interned with InterPlay in Oakland, California and attended Art and Social Change. She has led InterPlay workshops throughout the United States and Australia, for chaplains, students, and faith communities.