I am delighted to share another beautiful submission to our Monk in the World Guest Post series from the community. Read on for April's reflection on becoming a monk in the world.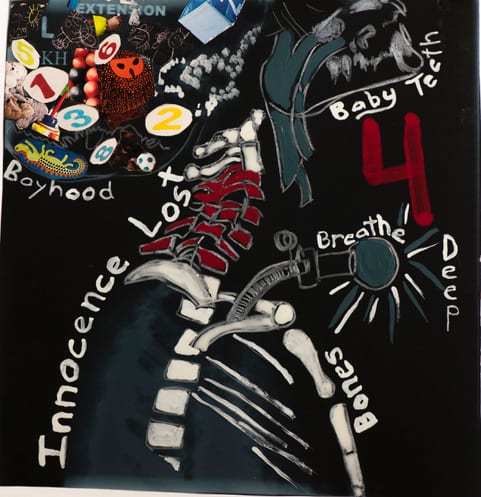 When did I start living as a monk in the world?

My journey began as a child in a divided and strife filled home where I knew God's intimate whisper through writing and nature. Though I was too young to consciously understand, my inner being longed for a monastic life.  I voiced this inclination and asked a couple of adults how to become a nun. We were not Catholic and I was told it was not possible. My soul's deepest desire lie dormant beneath fertile soil as the years sped by.

But somewhere in my growing up, God became cold, hard and unsmiling. I forgot my connection to Love.

I continued on in my sleep-walking life. I married, had five incredible children, then great tragedy struck. My youngest was diagnosed with cancer at age four. During the crisis of treatment, afterward with PTSD, emotional scars and continued medical fallout and beyond; my cold, hard unsmiling God was absent. Trying to force his appearance, I wrestled with him, sometimes angrily, sometimes humbly, but darkness spilled across a decade of time.

Somehow my soul's longing drew me along quietly and underground outside my awareness.  One day while hiking, I discovered nature again. I felt the Divine lingering there. It fed my soul and I ached for more. Writing and art began to evolve in my life. First processing, then seeking and questions less wrestling, but always the desire to know Presence.

Golden Boy-Golden Trachea

My art emerged by painting on my son's x-rays. My first piece, Lament 1: A Passionate Expression of Grief or Sorrow, was pain-filled. Later pieces: Golden Boy-Golden Trachea, were bright and cheerful. Drawn to create this x-ray art felt like flowing from a deeper place within me. A crack of light opening me to the Divine again.

Slowly, like a tiny shoot pushing up through damp soil, my soul began to peek out. "There has to be a better way, a different language" became my mantra.

Finally, a spiritual director introduced me to Contemplative Prayer practices and my soul burst forth.  I experienced Ultimate Love in a profound and healing way. Everything shifted and I was on a new path. God was no longer punitive. God is Love. Now when walking in nature, colors are vivid and the light exquisite, often taking my breath away. Presence is steady and consistent, I sometimes forget.

Slowly, I built my life rhythms: centering prayer, yoga, spiritual director meetings, walks in nature, writing, silent retreats and collage. Some I practice daily, some monthly and others are yearly practices.

I have come home to myself.  I am a monk in the world.

I'd like to share specifically about what collaging holds for me. It's a call, a drawing inward with images, colors and textures. I answer this call by sitting in my loft, peaceful music encircling me as I cut, tear and paste. The loft, myself, we morph into a liminal space. I see with soul eyes, not physical eyes. I move deeper into myself and Presence.

Recently, I had a medical procedure concerning my uterus. As the date came closer, I reflected on this beautiful part of my body. The nest where my five children were sparked, nurtured and knit together. A sacred space. I know women who could not conceive. I heard their anguish. I was filled with such gratitude.

A collage and poem were born out of this reflection: "Ode to Little Pear".

Ode to Little Pear

Ode to little pear
once apple green
wooden tartness
clinging upon
tender branch.

Wordless blossom
fruitless virgin
hopes future
Waiting
ripening.

Ode to little pear
weighty centeredness
pelvic core
sweetening
blood red.

Nesting space
secret place
nativity for souls
quaternary pear
and purple plum.

Ode to little pear
life giver
fertility
of femininity
birthing muscle

I carry thee
a soliloque
on silver platter casket
before Creator
empty hourglass
served me well.

Ode to little pear tree
richness of roots
deep in
loamy soil
chalk white bones
of ancestors
intertwined
branches dancing
toward the light.

My little pears
and perse plum
origins of lineage
bring forth
new life.
---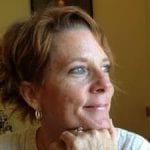 April Brenneman is a writing workshop facilitator with Write Around Portland and co-facilitates Contemplative Prayer & Journaling Retreats with Boldly Loved LLC. She also co-founded Northwest Narrative Medicine Collaborative, connected with OHSU, assists in conference planning and co-hosts their monthly series. April has companioned alongside people through great loss while walking her own journey, processed through creating an art collection titled: X-Ray Art-Mother & Son. She believes authenticity, vulnerability, openness and emotional awareness are keys to a healthy mental and spiritual life. One of her greatest joys is hosting and holding space for others, whether it's her family, friends or guests from all over the world whom she hosts in her home through Airbnb. She has resided in Tigard, OR for 34 years where she raised her five children. For more information about April and her work check out Boldlyloved.org and nwnmcollaborative.org.