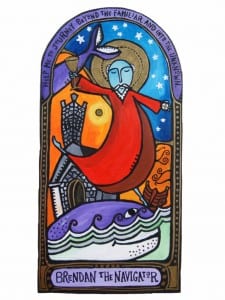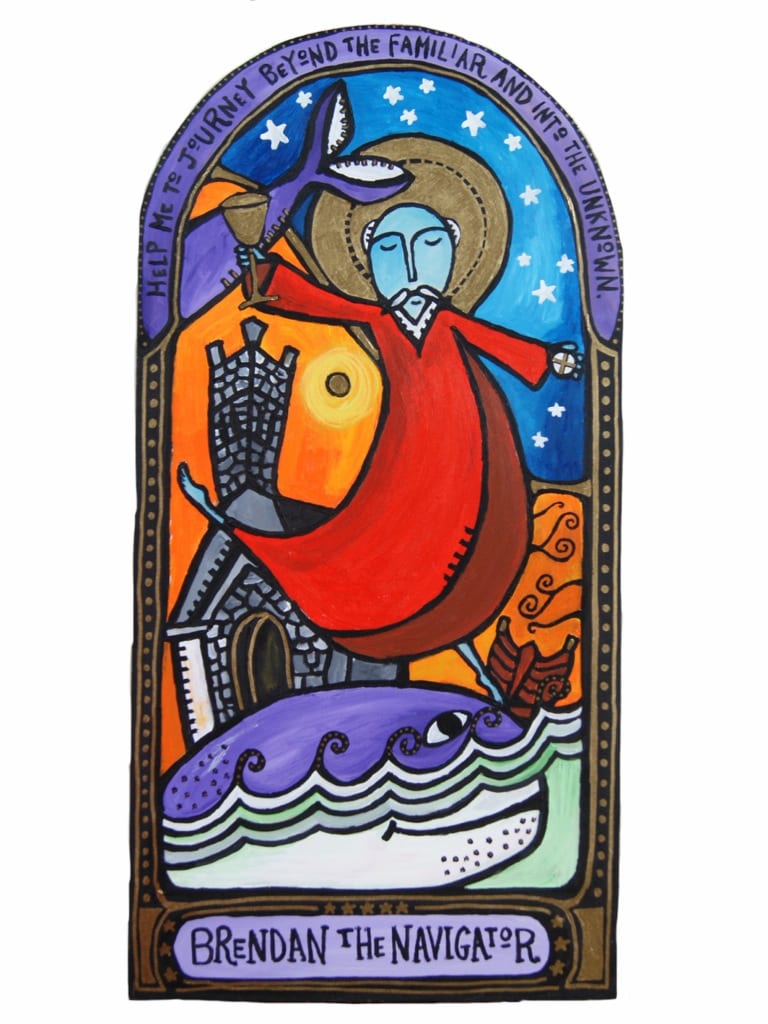 Help me to journey beyond the familiar
and into the unknown.
Give me the faith to leave old ways
and break fresh ground with You.
Christ of the mysteries, I trust You
to be stronger than each storm within me.
I will trust in the darkness and know
that my times, even now, are in Your hand.
Tune my spirit to the music of heaven,
and somehow, make my obedience count for You.
—The Prayer of St. Brendan (attributed to Brendan)
Dearest monks and artists,
I was not that familiar with Brendan the Navigator until I moved to Ireland. Officially, he would be known as Brendan of Clonfert, and there is a Cathedral in Clonfert, Ireland bearing his name and a site said to be his grave where I have visited. But there are many physical places connected to his story, including a monastery about a half hour north of Galway city where his sister founded a community and Brendan came before his death.
The "Navigator" or "Voyager" is his more commonly known title because his life was defined by his seven year long journey across the sea to find the Island Promised to the Saints. He would have visited the island of Inismor off the coast of County Galway to receive a blessing from St. Enda before embarking on his journey, so I relish knowing I have walked and sailed on some of the same landscape as he.
He hears the call to search for this mythical island and it is revealed in a dream, an angel says he will be with him and guide him there. He brings along a group of fellow monks for community, and searches for seven years sailing in circles, visiting many of the islands again and again. Each year he celebrates Easter Mass on the back of a whale. Each year he visits the island of the birds, where white-feathered creatures sing the Psalms with his monks. Only when his eyes are opened, does he see that this paradise he seeks is right with him.
There is also a deeper, archetypal layer to this journey, which resonates with our own inner pilgrim – the part of ourselves drawn to make long voyages in search of something for which we long. This is the inward geography of the journey, and one where we may physically only travel a few feet or miles but the soul moves in astronomical measure.
This journey is an allegory of spiritual transformation and the soul's seeking to live and respond to the world from an experience of inner transfiguration with themes of Brendan's waiting, anticipation, striving, searching, and seeing from a deeper perspective. The heart of the voyage asks us, what needs to change for the Land Promised to the Saints to be recognized? What is the way required through both illuminated and shadowy interior landscapes? Are we able to stay present through moments of solace, ease, and joy, as well as the anxiety, fear, and sometimes terror that comes when we let go of all that is familiar to follow our heart's calling? Can we see the difficult journey as a passage of initiation?
We have a free call on Brendan the Navigator and the Pilgrim archetype tomorrow! Visit this link to register>>
Our exploration of Sacred Time during the holy seasons of Advent and Christmas starts today! Join us and make an intentional pause this year and reframe your relationship to time from one of scarcity to one where you touch the eternal. We promise rich conversation and connection and a wonderful online sanctuary.
With great and growing love,
Christine
Christine Valters Paintner, PhD, REACE
Photo © St. Brendan dancing monk icon by Marcy Hall