I am delighted to share another beautiful submission for the Monk in the World guest post series from the community. Read on for Gracia Sears' reflection on art and service.
I sit in  the living room of our condo; I can see the Gulf of Mexico from where I sit. I savor this space.  It is my "cell" for three months of the year.  I read, I walk, and do small watercolors in my attempts to capture the essence of this seascape with its western view, its sunsets.  I have long savored sunsets and like many people seek them in the many places we have called  home. Now as I enter the last stage of my life I find them more appealing. Day is done they say but also there will be a tomorrow. I believe that.

My journey as a monk in the world began 6o years ago when bored while on vacation with my parents and siblings I wandered into town from our camp site and bought a beginners oil paint set. For the next two weeks I immersed myself in the world of color and smell of pigments. I was no longer  bored, I was enthralled.  This began my quest, though many of obligations such as marriage and motherhood intervened, I carried this little set and dreamed of the day I would return to it Finally I did find the time and Art became my religion. I believe the artist Emily Carr coined the phrase but it resonated for me.

For years I felt my obsession with painting was separate from my involvement in churches as we moved around the country. Slowly I came to realize the healing of wounds I had incurred along the way found their way into paintings. Where I may not have had words I had images that helped me resolve some of this pain.  People found their way to my studio with their wounds and through painting seemed to find peace. It was during this time that I really felt that art was my religion.  Like the root of the word religion I was re-connecting with the source. My life was fulfilled by being a midwife to others who were on similar quests.

I know how precarious life is and I practice living in the moment. Sitting in my cell,  I practice being a monk in the world by loving unabashedly all who have come before and those who will follow.

About 15 years ago I saw an ad in a hospital newsletter seeking pastoral visitors. I felt a nudge and even though I felt being a Unitarian/Universalist that my approach would be too secular, I applied.  There was a lot of serendipity in this move. I thought I was about to leave my artist life behind but the managing chaplain had other ideas. She thought I could and should integrate the two. During the past 15 years I have worked to enrich the lives of staff and patients with doses of art and I have gone from secular to a much more  spiritual life.

I have enjoyed the many offerings from the Abbey for the Arts.  I generally take a course during the winter months when I am separated from my colleagues in the Spiritual Care Department of the Medical Center where I spend my time when I am back up North. These courses continue to fill a deep craving I have for the spiritual life.  I met Hildegard of Bingen through one of these retreats and continue to find more and more about her from the Abbey and other people who have been similarly inspired.

For many years I have turned to creating Mandalas in my quest for deeper insights so when the Abbey included them in retreats I enjoyed sharing and seeing what others did. I found it another way to communicate as I did with the poetry and photography offerings.

My horizons continue to expand and I turn to nature to fulfill this quest. I read reflections by  Rev. Richard Ruhr and Thomas Merton and find my need for a community by worshiping at a Congregational church when back up north. This is part of the United Church of Christ or UCC. I have been told the UCC stands for Unitarians considering Christ. I guess that is where I am these days. For now I am going to soak up as much of nature as I can and worship in this cathedral of the universe.

As I sit here writing I can see a cairn I assembled from a walk on the beach. It is a stack of shells I carefully assembled. Life is like this little marker. It could be toppled in a moment but like the sunsets it could also be created again."
---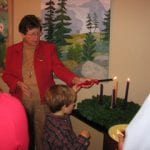 Garcia Sears is a nurse and also has a BFA degree in select studies. She combines skill from each to act as a "midwife" to others. She has been married  for 57 years to a wonderful supportive man. They have 4 sons, 2 daughters in law and 6 grandchildren whose presence enriches their lives.