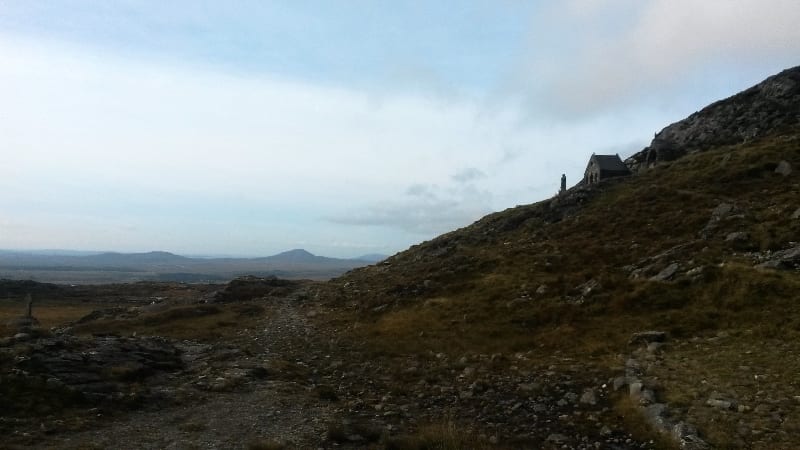 Dearest monks and artists,
It was such a joy to return from our trip to the States last week and feel as though we were coming home to Galway. We recently made the decision to have our small storage unit, which has been waiting for us in Seattle ever since we moved two and a half years ago, shipped over to us. It has mostly boxes of family photos and two pieces of furniture from my father's side of the family, as well as an oil painting of my grandmother. I have missed these family connections. Making this decision felt like another stage in our commitment to this place, putting down an anchor so to speak.
John and I have been exploring Connemara and the Burren this week. Connemara is the wild and beautiful landscape just to the west of Galway, with granite and quartz mountains and gorgeous sea coast. The Burren is just south of us and is an ancient limestone landscape full of raw and rugged beauty as well. We keep falling more in love with Ireland and her treasures. The land is saturated with monastic ruins which still hold the wisdom and prayers offered in these places, not just for the hundreds of years of Christianity, but likely thousands of years of spiritual tradition. Many of the monasteries are located in places considered holy for as long as people inhabited this place.
As we hike, ponder, and stay present to the gifts of stone and wind, sea and sunlight, rain and bog, I keep discovering the way landscape itself can become a sacred text. John and I practice lectio divina most mornings. We currently are savoring the Psalms, moving through 2-3 verses at a time on a long slow pilgrimage through those ancient songs sung by monks through the ages. And as I walk over granite and limestone I pay attention to what shimmers around me, what is calling to my heart in this holy place.
Yesterday, as we hiked up to Maumeen Pass in Connemara, where there is a chapel and two holy wells dedicated to St. Patrick, as he was said to have traveled to that place during his life, I kept finding heart-shaped stones along my path. My pockets grew full and heavy as my heart beat loudly from the steep ascent. It was invigorating to feel myself fully alive. The air was cold and the sky blue with large white clouds floating by.
We arrived up at the open altar and I laid my stones there, an offering of gratitude. I felt connected to the thousands of prayers that have been infused into this place. There are three annual pilgrimages there – one on the feast of St Patrick, one on Good Friday, and one on the first Sunday of August – in addition to all of the people who make their way up the side of the mountain on a daily basis to feel a connection with other pilgrims and with the great cloud of witnesses.
I left my stones there, taking only the smallest heart with me as a reminder. There are all kinds of mementos left at the chapel and wells, symbols of longing, talismans of hope.
As I received the shimmering gift of the holy presence of this place, I found myself overwhelmed by gratitude for our life here. My invitation was to continue walking with great reverence in this place, to stay open to all of the surprises Ireland keeps offering, and to continue inviting others to join us here.
We walked back down the mountain mostly in silence. After our hike we drove over to the village of Leenaun, which sits on the Killary Fjord, where we soaked in their seaweed baths, feeling ourselves held and soothed by the gifts of the sea.
Mountains and seawater, the elements are alive here. They call us to be present to nature as sanctuary and place of revelation. The landscape is a holy book.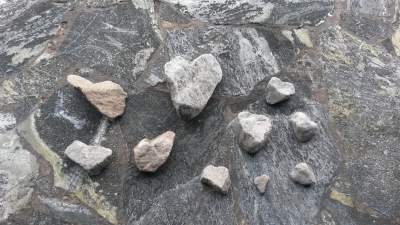 Is there a landscape holy to you which might speak as a sacred text to your life right now? What invitation shimmers forth?
With great and growing love,
Christine
Christine Valters Paintner, PhD, REACE
www.AbbeyoftheArts.com
Photo: St. Patrick holy site, Maumeen Pass in Connemara, Ireland
---
Advent Online Retreat and Subscription Series (2014-2015)

Please consider supporting the Abbey by committing to the whole series of online retreats this coming season. We have been hard at work since late spring working on these offerings and are very excited!  The Advent/Christmas and Epiphany/ New Year retreats focus on one of the figures from the dancing monk icon series each week as source of wisdom and as archetype for our inner journey. Included will be reflections from Christine and John Valters Paintner on the theme, we have songs created just for each week by some of our favorite Abbey musicians (including Richard Bruxvoort Colligan, and David and Laura Ash), Betsey Beckman will be inviting you into gesture prayers with these songs, and Kayce Hughlett will be offering invitations to the process of SoulCollage.
The total cost for all four retreats if registering separately would be $640, but if you register for the series the cost is $575, a $65 savings overall and you can also choose one of our self-study retreats as a free gift (any from this page except for Women on the Threshold).
Registration is also available for any of the individual online retreats.
Stop by the Advent online retreat to read more and register>>
---
All 12 Dancing Monk Icons now available as prints! (order by October 31st for Christmas)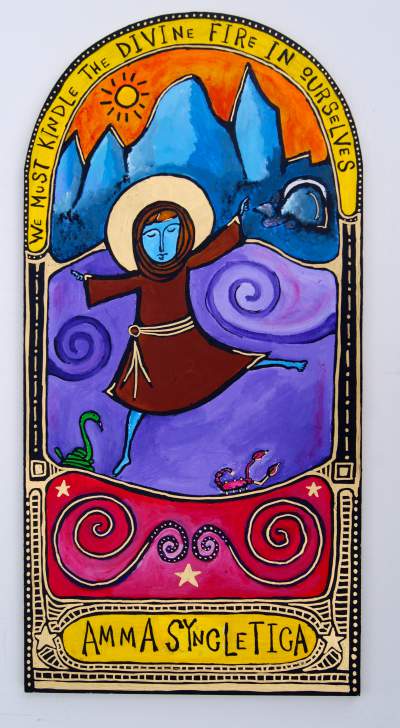 I am so delighted to announce that Marcy Hall of Rabbit Room Arts has made all 12 of the dancing monk icons available to order as prints. The prints are 5.5 x 10 inches and the mat is 11×14.
The dancing monk series includes: Benedict of Nursia, Hildegard of Bingen, Brigid of Kildare, Brendan the Navigator, Francis of Assisi, Mary, King David, Prophet Miriam, Thomas Merton, Dorothy Day, Rainer Maria Rilke, and Amma Syncletica.
Discounts on multiple prints and part of the proceeds goes to support the Earth Monastery Project.
If you place your order by October 31, 2014, the prints will be made up in November and shipped out before U.S. Thanksgiving in November for delivery by Christmas.
Please be patient after placing your order. Marcy works with a local printer she knows so the process takes time to make sure the prints are looking beautiful for you.