Welcome to this month's Abbey Photo Party!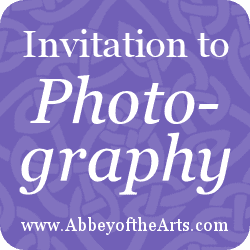 I select a theme and invite you to respond with images.
We began this month with a Community Lectio (Visio) Divina practice (stop by to pray with this beautiful image from Mary Southard).  As I prayed with Mary's art I felt held in this womb of waiting and watchfulness, attentiveness and presence, of sinking into the gift of stillness and knowing this is necessary before the birth can come.
With our overall theme of the year at the Abbey as discernment, I love the idea of exploring the gifts of waiting, being fallow, embracing rest, as essential dimensions of listening to what we are each called to birth into the world.
I invite you for this month's Photo Party to play with this idea as you go out in the world to receive images in response. As you walk hold this image of holy waiting and be ready to see what is revealed to you.
You can share images you already have which illuminate the theme, but I encourage you also to go for a walk with the theme in mind and see what you discover.
You are also welcome to post photos of any other art you create inspired by the theme.  See what stirs your imagination!
How to participate:
You can post your photo either in the comment section below* (there is now an option to upload a file with your comment) or you can join our Holy Disorder of Dancing Monks Facebook group and post there. Feel free to share a few words about the process of receiving this image and how it speaks of the "Holy Waiting" for you.
*Note: If this is your first time posting, or includes a link, your comment will need to be moderated before it appears. This is to prevent spam and should be approved within 24 hours.