Welcome to this month's Abbey Photo Party!
I select a theme and invite you to respond with images.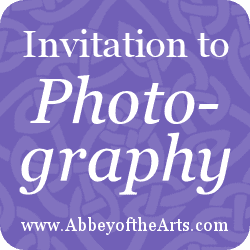 We began this month with a Community Lectio Divina practice (stop by to read the beautiful responses).  As I prayed with the Isaiah text, this phrase kept shimmering for me: 
See, the former things have come to pass, and new things I now declare; before they spring forth, I tell you of them.
I love this image of God seeing the newness of things to come before we do, God's imagination so much wider than we can see, and the possibilities just on the verge of being birthed that are hidden to us in this moment.
September can have the feel of a new year beginning, especially for those of us connected to school calendars. The ushering in of autumn, the return to classes, programs gearing up again after the slower pace of summer. Here at the Abbey we are celebrating many new things like the Wisdom Council, the Earth Monastery Project, the Holy Disorder of Dancing Monks, and the fall calendar of new invitations.
I invite you for this month's Photo Party to play with this idea as you go out in the world to receive images in response. As you walk hold this inspiration of newness and be ready to see what is revealed to you.
You can share images you already have which illuminate the theme, but I encourage you also to go for a walk with the theme in mind and see what you discover.
You are also welcome to post photos of any other art you create inspired by the theme.  See what stirs your imagination!
How to participate:
You can post your photo either in the comment section below* (there is now an option to upload a file with your comment) or you can join our Holy Disorder of Dancing Monks Facebook group and post there. Feel free to share a few words about the process of receiving this image and how it speaks of the "Call to Newness" for you.
*Note: If this is your first time posting, or includes a link, your comment will need to be moderated before it appears. This is to prevent spam and should be approved within 24 hours.