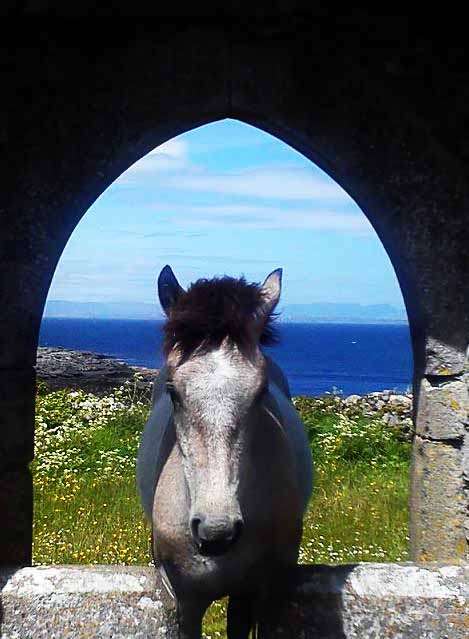 Welcome to Poetry Party #69!
I select an image and suggest a theme/title and invite you to respond with your own poem. Scroll down and add it in the comments section below. Feel free to take your poem in any direction and then post the image and invitation on your blog (if you have one), Facebook, or Twitter, and encourage others to come join the party!  (If you repost the photo, please make sure to include the credit link below it and link back to this post inviting others to join us).
I received this photo on a recent journey out to the island of Inis Mór, which is one of the Aran Islands off the west coast of Ireland.  We were visiting the monastic ruins of St Ciaran and there was this beautiful, young Connemara pony in the field adjacent.  When we walked into the church, there he was waiting for us at the other doorway.  We had just visited St. Enda's hermitage, where he had lived as an anchorite, receiving visitors for spiritual direction.  And so I imagined this pony coming to the window to offer his own wisdom.
Write a poem in celebration of the earth's creatures and the wisdom they have to offer to us.  Share it below in the comments with the Abbey community.
On Sunday, June 9th  I will draw a name at random from those who participate and the winner will receive a signed copy of Eyes of the Heart: Photography as a Christian Contemplative Practice directly from me in Ireland!