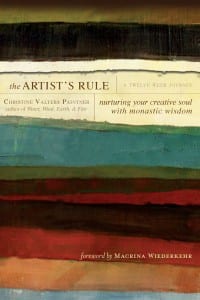 The wonderful folks over at Spirituality and Practice have chosen The Artist's Rule as one of their 50 best books of the year under the category of Creativity.
You can buy a copy of The Artist's Rule: Nurturing Your Creative Soul with Monastic Wisdom at Amazon.com or from your local bookseller.
Interested in hearing more about the book.  There have been some fabulous reviews including this one at Image Journal (under Features).
This past summer I went on a blog book tour and if you are new to the Abbey or the newsletter, here are some interviews and articles you might like to check out:
You can listen to two podcast interviews with me, one at Otherhood and the other at Sacred Life Arts.
Or you can read: