Welcome to the Abbey's 53rd Poetry Party!
I select an image and suggest a theme/title and invite you to respond with your own poem.  Scroll down and add it in the comments section below. Feel free to take your poem in any direction and then post the image and invitation on your blog (if you have one) and encourage others to come join the party! (permission is granted to reprint the image if a link is provided back to this post)
On Sunday, September 25th, I will draw a name at random from the participants and the winner will receive a free registration spot in my upcoming online retreat Honoring Saints & Ancestors: Peering through the Veil (October 30-November 19, 2011).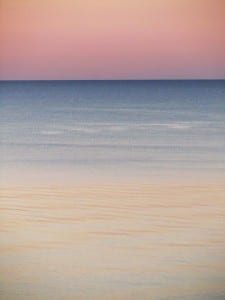 I adore the season of autumn with the crisp air, the days growing shorter, and the brilliance of the world around me as nature prepares for the sleep of winter.  This year I am pondering the image of home in her many facets: the Pacific Northwest salmon who right now make the arduous swim up river to return to their birthplace and lay the eggs of the new generation (and losing their lives in the process), the birds who will soon begin their journeys south in the great mystery of migration, in the releasing of ruby and tangerine leaves from branches and drifting downward back to the earth, source of life and home, and in the memory of my mother who took the great journey Home many years ago during this season.
Our photo prompt for this week is from my time on Lake Michigan last week.  Something about the vastness of her waters against the evening sky evokes this sense of the primordial source for me and where we all return.  My teaching partner, Betsey, calls her "Mother Lake."
What does the metaphor of "going home" evoke for you?  What are the longings that autumn stirs in your heart?  I invite you to write a poem about your own process of going home.
---
*Registration* for two upcoming online retreats is now open: Honoring Saints & Ancestors: Peering through the Veil (October 30-November 19, 2011) and Advent 2011–Birthing the Holy: Becoming a Monk in the World (November 27-December 24, 2011).