I have a guest post at the Spiritual Directors International blog on St. Hildegard: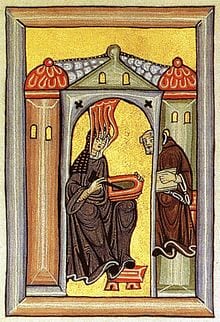 Last May, the process of canonizing Hildegard of Bingen, which began soon after her death, was finally completed. On October 7 she will be made a Doctor of the Church, one of only four women in the Catholic Church given such an honor.
I fell in love with Hildegard while in graduate school. Her creative heart dazzled me. I wanted to know more about this monastic tradition that nurtured her and from which she drew so much wisdom. She was my doorway into becoming a Benedictine oblate. I also consider her one of my spiritual directors, her voice providing guidance to me across the centuries.
We know much about her practical wisdom through the letters she wrote to all kinds of people in response to their requests for care. I like to think of this as an early form of epistolary spiritual direction. In her advice to another abbess she writes:
"A person who toils more than her body can bear is rendered useless in her spirit by ill-judged roil and abstinence. Living hopelessly and joylessly, that person's sense often fails."
The key to creative flourishing for Hildegard is cultivating moderation and balance. The virtue of discretio is about discerning the right path and not being overburdened or overworked so that we are stretched too thin and joy is lost.
Click here to read the whole article>>