Lorica Prayer and the Féth Fiada: Invocations of Faith in Poetry and Song
with Mícheál 'Moley' Ó Súilleabháin
Thursday, March 17, 2022
1-2pm Pacific
4-5pm Eastern
*8-9 pm Ireland/UK time
*Due to DST starting on different dates the time conversion from Ireland may be different than usual.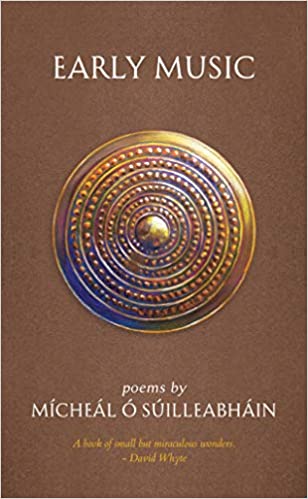 The lorica is a prayer in the Irish monastic tradition. A powerful form of invocation. The word lorica comes from the Latin for 'armour'. St. Patrick's lorica prayer, often translated as 'St. Patricks Breastplate' or 'The Deer's Cry', is an inherited text attributed to the patron saint of Ireland. In Irish mythology, Patrick's incantation of this prayer invoked the magical druidic power of the féth fiada allowing St Patrick to shapeshift into the form of a wild deer to evade a deadly ambush…
Our lives, like that of St. Patrick, seem on the threshold of the real and magical. We rise each day with our own private lorica and experience the miracle power of the féth fiada even on our most forgettable days. There is a virtuoso in each one of us. True virtuosity is achieved through invocation. These invocations often materialise in the form of painful and awkward petitions for help. Poetry and song invoke, and invite, the protection we need while keeping faith in ourselves and this tidal element of life. The protective power of the féth fiada resides in poetry, song, the virtuosity of being, and singing yourself.
This event is a mix of poetic recitation, Ancient Irish traditional song, and lighthearted story. This session will feature work from Mícheál's poetry collection Early Music as well as the work of others such as W.B Yeats and David Whyte.
The retreat will be recorded for those who pre-register but are unable to attend at the scheduled time.
Your Guide for the Journey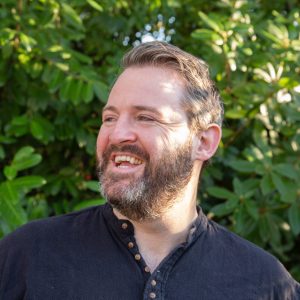 Mícheál 'Moley' Ó Súilleabháin
I learned to love my own voice,
making a friend of it, fashioning
a fountain pen to master
the phantom language
– excerpt from 'Early Music' by Mícheál Ó Súilleabháin
Mícheál 'Moley' Ó Súilleabháin is a renowned singer, poet, teacher and speaker from Limerick, Ireland. His artistic identity lives on the threshold between things. He is a master of several worlds of musical and poetic performance and composition. His way in the world exists between laughter and poignancy.
From a family steeped in Irish traditional music and academia, he gravitated to performance early, beginning as a drummer, he studied music at University College Cork. He graduated with an MA in Ethnomusicology at Irish World Academy of Music and Dance before teaching as a music educator with a specialization in rap and human beatboxing (vocal percussion). Though mainstream opportunity beckoned, there surfaced a deeper stream of inherited musical and poetic traditions that had been passed down. It was inherited from his parents, the late composer, pianist and ethnomusicologist Prof. Mícheál Ó Súilleabháin and his mother Rev. Nóirín Ní Riain. Both are icons of Irish traditional culture.
Beginning in his early 20's Mícheál apprenticed himself to the repertoire of his mother, Rev. Nóirín Ní Riain. He collected a store of Irish traditional and interfaith religious song. They created an a capella trio, with his brother Owen, performing across Europe and America. They have a series of albums together of sacred song.
Around this time he and his brother met the poet David Whyte. So began a mentorship in the art of poetry and public speaking that has influenced him deeply to this day. Mícheál and his brother have worked closely with David Whyte for over a decade singing and speaking with him all over the world. Mícheál published his first book of poetry, EARLY MUSIC, on David Whyte's Many Rivers Press (Seattle) in late 2020. Also in 2020 he founded the Dámh Imeall – (H)Edge School with his brother and mother. (H)Edge School is an online community of inquiry and ritual with online workshops and events on a range of interfaith and multi-disciplinary topics.
Mícheál has shared stages and been invited to work with Russell Crowe, Alan Doyle, Samantha Barks, Nigel Kennedy, The Chieftains, Steven Spielberg, Bobby McFerrin, Scott Grimes, STING, Rhiannon Giddens, and the Buffalo Philharmonic Quartet, BAD ROBOT studios, Kripalu Yoga Centre, The Art of Living, Sounds True, Center for Spiritual Living, Boston College, to name but a few.
Mícheál provides coaching and conversation in a range of fields. He deepens the narrative around creativity and the artist's sense of belonging. Permission and virtuosity are deep themes in his poetry, music, and his conversational interest. Music and poetry are both areas where he is brave enough to inspire others.
Join Mícheál's online community at www.Turasdanam.com
This is a free event but you are encouraged to support the poet by purchasing a copy of Early Music, Mícheál's poetry collection. You can use this link to order a signed copy directly from him in Ireland or order from your local or online bookseller.
Please be careful to enter your correct email address when you register.