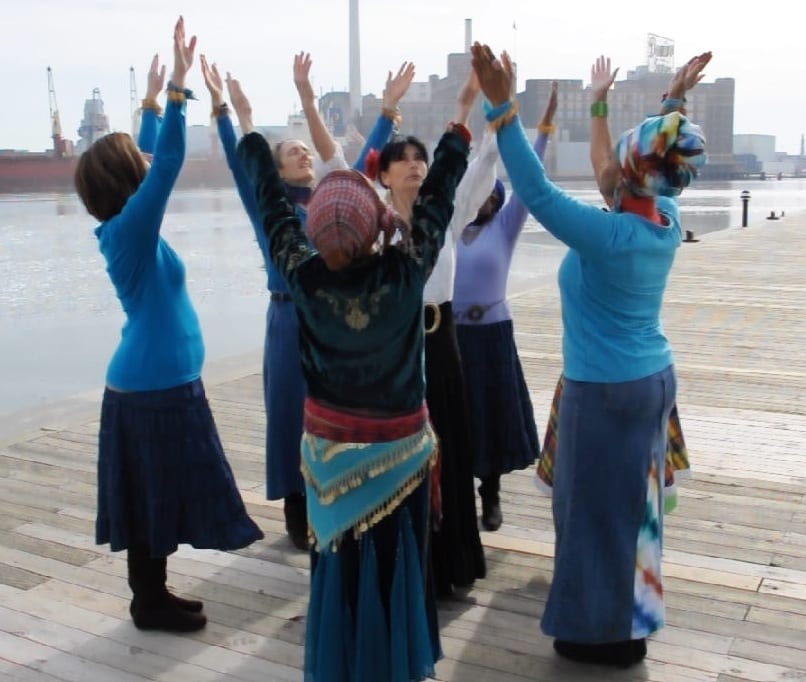 Photo above: Dance Alchemists on the pier at the Frederick Douglass–Isaac Myers Maritime Museum, Baltimore. Photo top right: Alchemists peace sign. Photo bottom right: Lucy Zamora.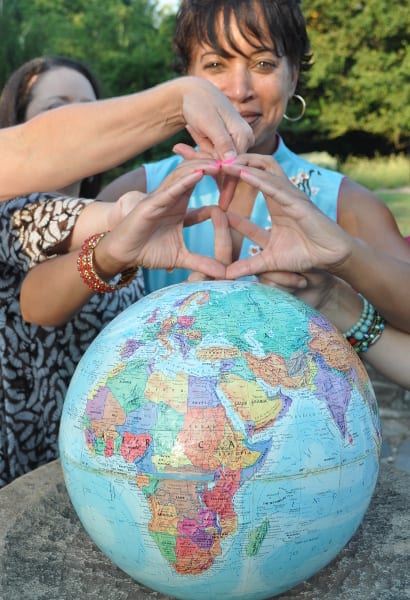 The Earth Monastery Project is a partnership between the Abbey and carefully selected applicants, who will receive resources to complete a Project which nourish an earth-cherishing consciousness and cultivate a vision of the earth as our primary monastery. The EMP is a small grant project funded by donations, income from Amazon Associates program, and through a percentage of fees from Abbey online courses.
Candice Tritch and Andrew Janssen are grant recipients for their Dance Alchemy project application.
Dance Alchemy (click to like their Facebook page) enjoys a startling popularity in nations around the world, rising on Facebook from 95 fans in mid-August 2013 to over 31,000 fans now. We are particularly moved by the strong fan base coming from regions which are currently in, or have recently known, great conflict and consequent ravaging of the Earth. Now it is time to reach out to that fan base, identify those who feel as we do about peace and respect for the Earth, and unite them in a common project. The Earth Monastery's Monk Manifesto and the "Holy Disorder of Dancing Monks" concept have both inspired this project.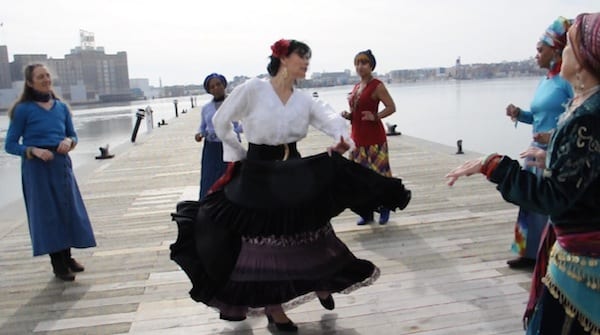 Dance Alchemy is committed to spreading world peace. Our motto, found on our website and all our materials, is We put the Move in Peace Movement.
The Abbey Wisdom Council was drawn to Candice and Andrew's proposal because Dance Alchemy engages dance in the service of the earth with a Peace/Earth choreography and video project inviting dancers from around the world to participate. (To participate in their project click here!)
Our grantees from the fall cycle are midway through their projects and so offer their reports which we are excited to share an excerpt from what Candice and Andrew shared with us.
---
Dance Alchemy by Candice Tritch and Andrew Janssen
The Dance4Peace on Earth documentary is well underway. Our  initial dance video and the accompanying instructional video were shot, edited, and put up on the new Dance4Peace on Earth website. Now the word is spreading by any and every means, and we are hearing back from people in other parts of the world who want to participate.
Beginning from when we  received word that you were awarding us the grant, up through the present. Further along in this section, there is a link to the new Dance4Peace website,
where you can watch and read more about the project. Since December, 2013,
we:
Incorporated Dance Alchemy, Inc., and are well into the process of becoming a tax exempt organization. We are receiving help from the Maryland Volunteer Lawyers for the Arts; the Earth Monastery Project grant was part of why they took us seriously and extended low/no-cost services.

Composed, arranged, and recorded an original soundtrack, "

Vast & Eternal

River

." This music evolved across January and February, with the help of several

talented people who's names appear in the film credits.

Created an original choreography to the soundtrack. Both it and the soundtrack were strongly influenced by First Nations rhythms and movements, as you will see.

Filmed the dance at five different locations around Baltimore in just two days, February 1st and 2nd. The locations were chosen after extensive scouting in the prior weeks. Each, in its own way, represents mindful reclamation and repurposing of spaces, along with having local historical significance. We shot a total of 51 takes in approximately 14 hours, including travel. We mention each by name in the credits, as well as on the Thanks page of the website.

Created a new special section of our website, specifically to showcase the project. The site is designed to make it easy for viewers to grasp the idea, watch the videos, and sign up to participate.

Researched, discovered, and implemented a piece of Google code that translates the entire site into virtually any major language on Earth.

Began a campaign, using email, Facebook, the website, and whatever other means we could find, to get the word out and invite people to join the dance. We also created a YouTube channel for the project, and are dressing it up this week as part of the overall promotion.

Already we've seen significant interest in the form of Facebook "likes" and sharing of our links there. Also, visits to the Dance4Peace website have risen sharply. People are getting back to us, asking questions and saying they want to be involved, from places like Venezuela, Haiti, and Benin.
Do you want to be involved in Dance Alchemy's dance video project?
See the dance to "Vast and Eternal River" here:
Learn the dance here (go dancing monks!):
You can participate in this project by letting them know you will be submitting your own video here.
---
Applications for our next round of Earth Monastery Project grants are now being accepted through April 3oth! We welcome your proposal! Please see this link for details and feel free to email us with any questions.
Would you consider making a donation to this work and support future projects which nourish an earth-cherishing consciousness? (Go to the bottom of this page for the payment link – credit cards accepted)