Welcome to Poetry Party #74!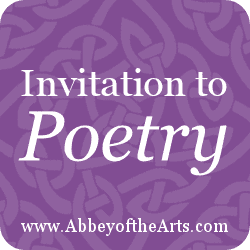 I suggest a theme/title and invite you to respond with your own poem. Scroll down and add it in the comments section below or join our Holy Disorder of Dancing Monks Facebook group and post there.
Feel free to take your poem in any direction and then post the invitation on your blog (if you have one), Facebook, or Twitter, and encourage others to come join the party!
We began this month with a  Community Lectio Divina practice on the ancient desert practice of asking for a word, and followed up with our Photo Party on the theme of "Give Me a Word" inspired by our invitation to let a word for 2014 choose you (here – you can still share it, although prize winners have been announced).   We continue this theme in our Poetry Party this month.
Write a poem inspired by your word, something you could use as a prayer or blessing throughout the year, or just a simple reminder of how your word is inviting you to be in the year to come. In our free 12-day mini-retreat one of the suggestions was to write an acrostic poem from your word, where you write your word vertically on the page and each letter becomes the first letter for that particular line of the poem. See what form your poem wants to take!
You can post your poem either in the comment section below*or you can join our Holy Disorder of Dancing Monks Facebook group (with more than 1000 members!) and post there.
*Note: If this is your first time posting, or includes a link, your comment will need to be moderated before it appears. This is to prevent spam and should be approved within 24 hours.